Terracotta volute-krater (mixing bowl)
Attributed to the Baltimore Painter

On view at The Met Fifth Avenue in Gallery 160
The volute krater, named for its spiral-shaped handles, is a typical Greek vessel first produced in Athens in the sixth century BCE. Monumental kraters such as this one are typical of the Apulian red-figure production that developed between ca 440 and 300 BCE in the region of the Greek colonies of Taranto and Metaponto in Southern Italy, where they were used as tomb markers in cemeteries. The preference for this shape (which by the time had fallen out of favor in mainland Greece), the enormous size, and the places where they were found indicate that Apulian kraters were produced principally for the local Italic market. In the final decades of the fourth century, the Baltimore Painter―who painted this krater―was a prolific artist probably based in the indigenous settlement of Canosa, where this vase was discovered.

On the obverse, Paris, the Trojan prince, is seated in the center. He listens to Hermes who has brought the three goddesses to him. Aphrodite, accompanied by Eros, is in the upper left. Hera, holding her scepter, is seated in the upper right. Athena, below Paris, is also seated, leaning on her shield, wearing her helmet. She is attended by two youths, who are dressed like Paris. At the extreme left, Pan observes the scene. Underlying the bucolic scenery, this tale, in which Paris must decide which one of the goddesses is the most beautiful, is the symbol of the Trojan war's origin, anticipating death and sorrow, a suitable topic for a funerary vase.

The reverse shows the statue of a young woman standing in a small temple-like funerary monument―a naiskos―a typical representation on Apulian red-figure kraters. She represents the deceased and is surrounded by boys and girls bearing offerings.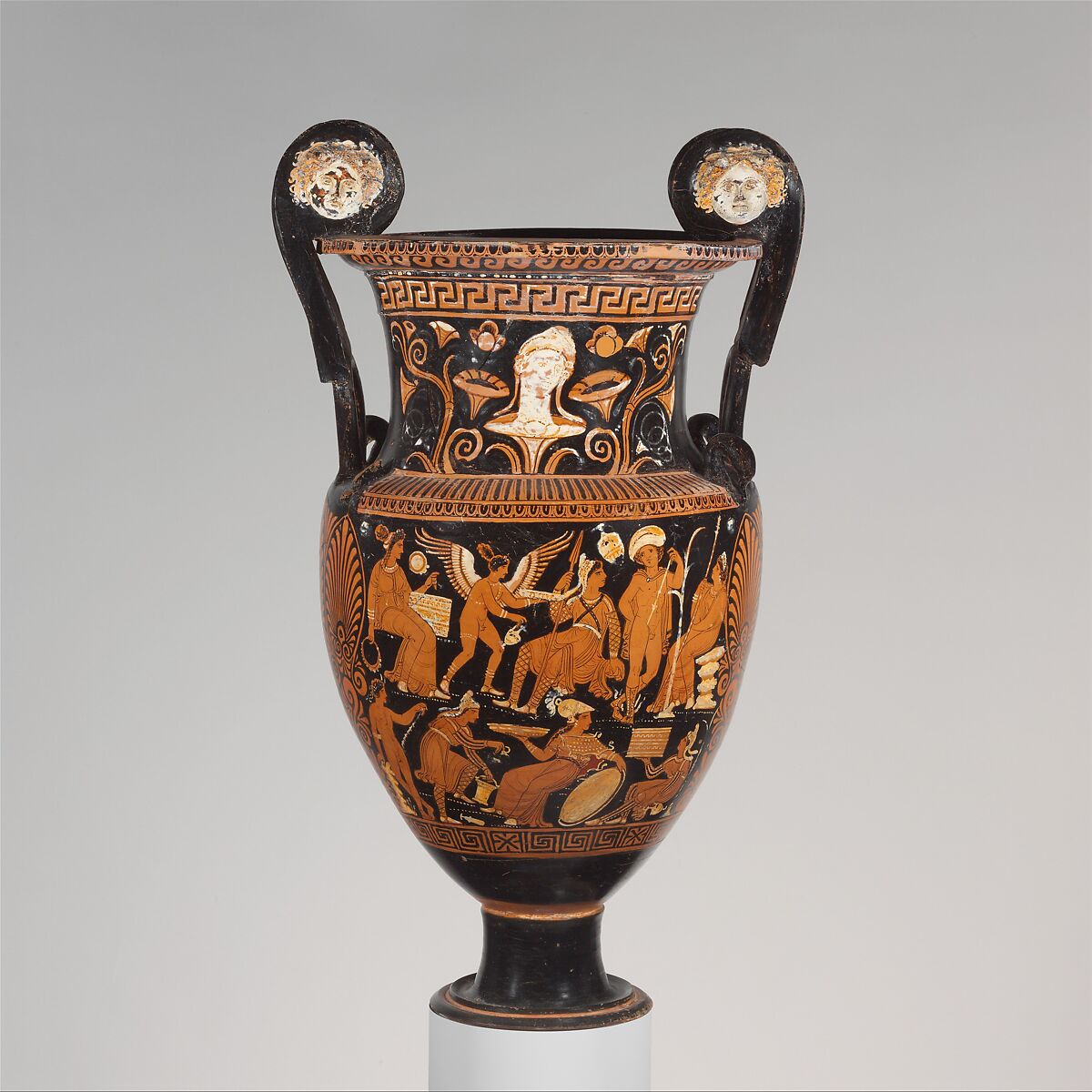 This artwork is meant to be viewed from right to left. Scroll left to view more.