The Flatiron
Edward J. Steichen American, born Luxembourg

Not on view
Steichen added color to the platinum print that forms the foundation of this photograph by using layers of pigment suspended in a light-sensitive solution of gum arabic and potassium bichromate. Together with two variant prints in other colors, also in the Museum's collection, "The Flatiron" is the quintessential chromatic study of twilight. Clearly indebted in its composition to the Japanese woodcuts that were in vogue at the turn of the century and in its coloristic effect to the "Nocturnes" of Whistler, this picture is a prime example of the conscious effort of photographers in the circle of Alfred Stieglitz to assert the artistic potential of their medium.


Steichen and Stieglitz selected this photograph for inclusion in the "International Exhibition of Pictorial Photography" held at the Albright Art Gallery (now the Albright-Knox Art Gallery) in Buffalo, New York, in 1910. The exhibition of six hundred photographs represented the capstone of Stieglitz's efforts to promote Pictorialist photography as a fine art.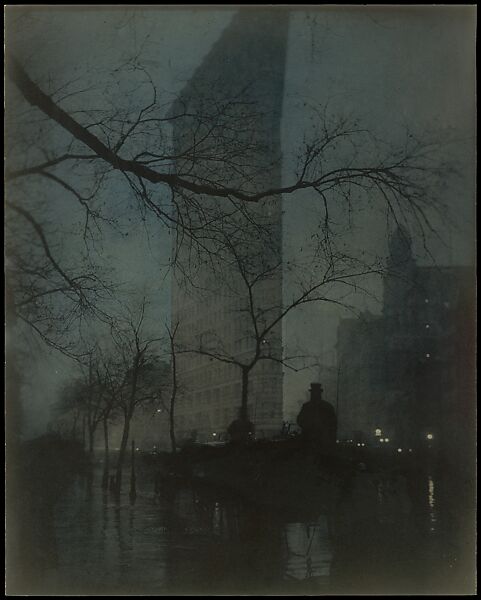 This artwork is meant to be viewed from right to left. Scroll left to view more.