Blade for a Sword (Katana)
Inscribed Etchū no kami Fujiwara Takahira Japanese

Not on view
Kanewaka was the most famous swordsmith of Kaga (now in Ishikawa Prefecture) during the Shinto (new sword) period, which spanned 200 years, from the late sixteenth to the late eighteenth century. Sometime between making a sword dated September 18, 1619, and his next recorded sword, dated January 1621, Kanewaka began signing his blades with the name Takahira and including two important titles granted him by the emperor. This is seen in the signature on the Museum's sword: Etchū no kami Fujiwara no Takahira (Takahira, Honorary Governor of Etchū, Honorary Member of the Fujiwara Family).

In forging the surface texture of blades he signed Kanewaka, the swordsmith favored a mixture of two patterns: itame (wood grain) and masame (straight grain). His later blades signed Takahira, of which this is among the most beautiful, show a change to the koitame pattern, a small, finely patterned wood-grain effect. The pattern of the temper line along the edge of the blade is also a key stylistic feature. Here Takahira chose an oblique clove-shaped pattern with mixed zigzag lines influenced by blades from the Mino and Aoe schools of the mid-fourteenth century to create a temper line that is one of the most attractive on his known works.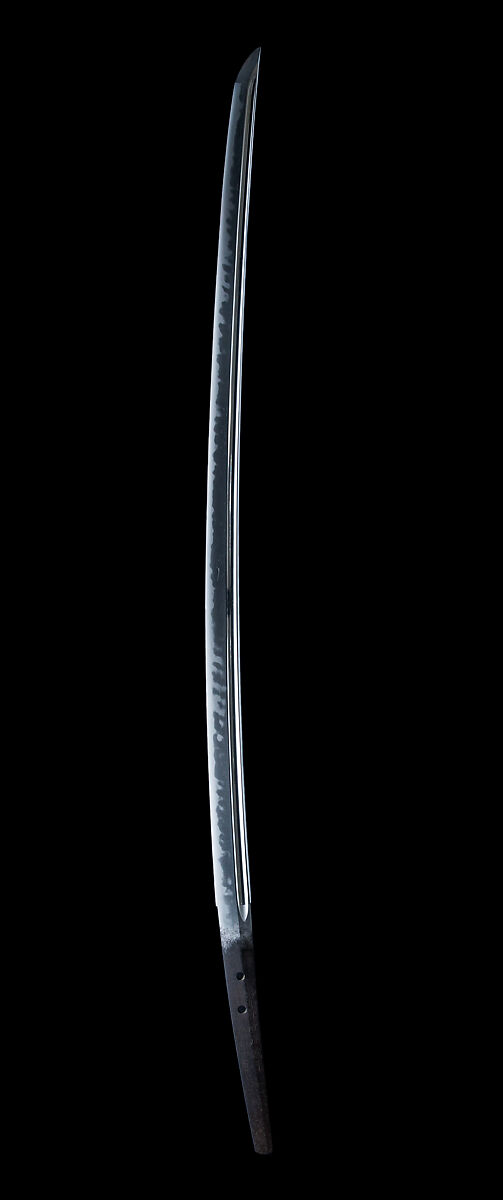 This artwork is meant to be viewed from right to left. Scroll left to view more.