Groupe dans le parc du château de La Faloise
Edouard Baldus French, born Prussia

Not on view
This photograph and eight others taken on the same occasion represent a rare foray for Baldus into the depiction of bourgeois leisure, a subject that would become a mainstay of Impressionist painting a decade later. Characteristically, even in a photograph that ostensibly depicts an informal garden scene, Baldus arranged the bench and chairs with near architectonic symmetry and posed the figures with great deliberateness. Given the artist's predilection for clarity of form and detail, one may wonder whether the elements most akin to the formal devices employed by the Impressionists-the flat white shapes of parasol and dress, for example-were intentional or accidental.

The photograph was made at the Château de la Faloise, home of Frédéric Bourgeois de Mercey, the seated man in the white hat. De Mercey, a founding member of the Société Héliographique, was the director of the fine arts division in the Ministry of State, an agency whose patronage sustained Baldus throughout the 1850s. Baldus' presence at de Mercey's country home suggests ties of friendship between this influential government arts official and the photographer at the high point of his career.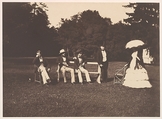 This artwork is meant to be viewed from right to left. Scroll left to view more.