Moscow, Domes of Churches in the Kremlin
Roger Fenton British

Not on view
In August 1852, Fenton set out for Russia at the invitation of his friend, the engineer Charles Vignoles, to photograph a suspension bridge that Vignoles was building for Czar Nicholas I across the Dnieper River near Kiev. With little experience but with obvious proficiency in Gustave Le Gray's "waxed paper" negative process, Fenton saw no reason to limit himself to that appointed task. When he returned to London in late November, his portfolio was filled with photographs of landmarks in Kiev, Saint Petersburg, and Moscow, the first photographs of Russia to be seen by the British public and the first ones by Roger Fenton.

Since its victory over Napoleon, Russia was viewed as the rising power of nineteenth-century Europe. Foreigners knew little of the immense empire outside of its capital, the thoroughly Western Saint Petersburg. But Moscow, with its multitude of gilded domes and the profile of its Kremlin towers, was an exotic sight, announcing Asia. Fenton photographed the cupolas of the Cathedral of the Assumption at eye level, from the lower bell arcade of the Ivan the Great Bell Tower, the city's highest building, looking west over Cathedral Square toward the churches of Terem Palace. The view shows, behind the cathedral, the modest Church of the Deposition of the Robe as it looked before a twentieth-century restoration would revive its original design. The Cathedral of the Assumption, built in 1475-79 by the Bolognese Ridolfo (Aristotele) Fioravanti for Grand Prince Ivan III, was the focal point of Russian religious life, where czars were crowned and patriarchs interred. Combining medieval Russian features with the harmonious geometry of the early Italian Renaissance, the church symbolized Moscow's ambition to be recognized as "the third Rome," replacing Constantinople, fallen to the Turks in 1453, as the center of Orthodox Christianity. Photographing from above and showing only portions of buildings and roofs, Fenton infused the composition with an exhilarating sense of airiness and light, the memorable image taking on the power of the architecture itself to proclaim the spiritual aspirations of a people.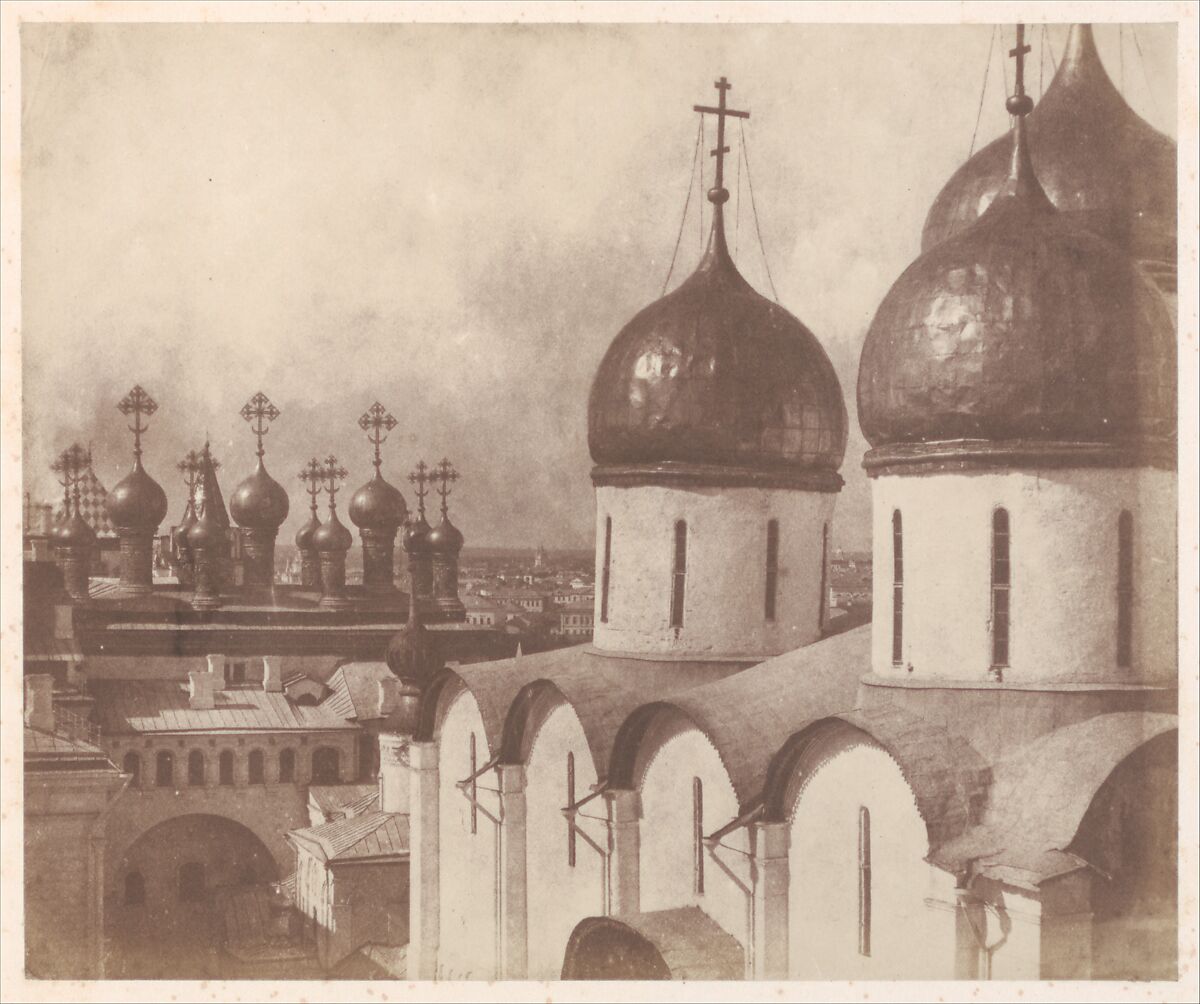 This artwork is meant to be viewed from right to left. Scroll left to view more.