[Nude with a Mask]
E. J. Bellocq American

Not on view
E. J. Bellocq was a commercial photographer of French Creole extraction who worked in New Orleans in the first decades of the century. In 1958, eighty-nine glass negatives of prostitutes in Storyville, the city's red-light district, were discovered in a chest. The negatives were eventually acquired and printed by the photographer Lee Friedlander, and comprise Bellocq's only known work other than a series of photographs for a World War I shipbuilding company. No prints from Bellocq's lifetime were found with the plates. In 1980, this photograph and two other vintage prints were discovered in New Orleans with the effects of Louis Danzig, a former cameraman for Pathé and Movietone News. Although it has not been documented, it is believed that Danzig knew Bellocq and received the prints directly from the photographer.

Jazz may not have been born in Storyville, but it was incubated in its extravagant palaces and saloons. Between 1897 and 1917, Basin Street, the district's main drag, flourished, as did the country's only truly indigenous music. A woman who worked in a brothel was a jazz belle, her customer a jazz beau. The finer establishments were decorated with Oriental carpets, gilded mirrors, and crystal chandeliers, and guests were entertained with nightly music by the likes of Buddy Bolden, Ferdinand "Jelly Roll" Morton, and King Oliver. By day, however, Storyville was quiet-a fact not lost on Bellocq, who worked with available light in the district's off-hours.

Bellocq's portraits show the women in various poses and degrees of undress, comfortable with their nudity and at ease in front of the camera; a few appear fully clothed, showing off their finest lace dresses and favorite pets. None of the photographs depict sexual acts or even suggest the presence of a man other than the photographer, whose pictures convey respect rather than voyeurism. This portrait is one of the most sexually frank of the series. The model's face and legs are masked, her pubic area exposed. She smiles, inviting the viewer for a ride on the raft of her chaise longue.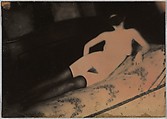 This artwork is meant to be viewed from right to left. Scroll left to view more.