I Got Up
On Kawara Japanese

Not on view
Considered the most personal and intimate of his works, I GOT UP is part of a continuous piece produced by On Kawara between 1968 and 1979 in which each day the artist sent two different friends or colleagues a picture postcard, each stamped with the exact time he arose that day and the addresses of both sender and recipient. The length of each correspondence ranged from a single card to hundreds sent consecutively over a period of months; the gesture's repetitive nature is counterbalanced by the artist's peripatetic global wanderings and exceedingly irregular hours (in 1973 alone he sent postcards from twenty-eight cities). Moreover, Kawara's postcards do not record his waking up but his "getting up," with its ambiguous conflation of carnal and existential (as opposed to not getting up) implications.

Contrasted with the random temporal shifts conveyed in the text messages are the diverse images of Manhattan featured on the postcard fronts, which accumulate over the piece's forty-seven day duration into an unexpectedly quasi-cinematic aerial tour of the city-circling around the United Nations (and inside the General Assembly), down the East River along the waterfront to New York Harbor and the Statue of Liberty, and finally roaming around Federal Plaza at street level before coming to rest at City Hall. Like the newspaper pages that line the special cases housing each date painting, these found images juxtapose the infinite variety and quotidian reality of the public world with the elliptical, self-reflexive messages on the back. The sequence also extracts a drifting urban poetry from the mass-produced and anonymous, layering it conceptually over the banal, functional postal route of the objects themselves, as well as reintroducing a formal design to a work that is at first glance anticompositional.

With tremendous economy of means and a surprising visual elegance, Kawara creates a complex meditation on time, existence, and the relationship between art and life.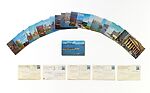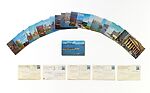 This artwork is meant to be viewed from right to left. Scroll left to view more.