On loan to The Met The Met accepts temporary loans of art both for short-term exhibitions and for long-term display in its galleries.
Abraham Lincoln
Mathew B. Brady American, born Ireland
Publisher Edward Anthony American
Person in Photograph Abraham Lincoln American

Not on view
Three months before his nomination as the Republican Party candidate for president, Abraham Lincoln went East, stopping in New York City on February 27, 1860, to give a speech at the Cooper Institute (now the Cooper Union for the Advancement of Science and Art). Many considered Lincoln's powerful antislavery lecture as his most important to date. The closing words spurred his audience and the country at large: "Let us have faith that right makes might, and in that faith, let us, to the end, dare to do our duty as we understand it."
Earlier in the day he sat for this portrait at Mathew B. Brady's gallery on Broadway and Tenth Street, just a few blocks from the lecture hall. Although his visit to the studio could not have lasted long, the result of this first of many portrait sessions with Brady was a simple but powerful image that would alter the visual landscape during the upcoming election. In a single exposure on a silver-coated sheet of glass, Brady captured the odd physiognomy of the man who would change the course of American history.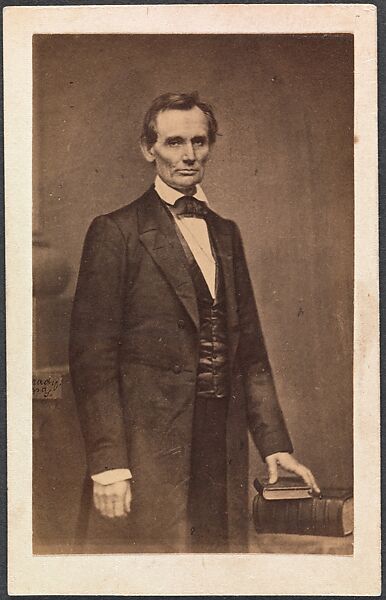 This artwork is meant to be viewed from right to left. Scroll left to view more.