Owl Warrior Bottle
Not on view
The depiction of animals as warriors with human attributes is common in both painted and modeled ceramics created by artists of Peru's Moche culture, and the beasts represented include numerous bird species, iguanas, crabs, foxes, deer, and crayfish (Donnan and McClelland, 1999). On this vessel (see Sawyer, 1966: 46, for a rollout drawing), the artist painted two anthropomorphic owls on either side of the globular body of the vessel, each dressed in typical Moche warrior attire, including a jaguar headdress with a feather ornament projecting in the back, ear spools, a sleeved tunic covered with square forms likely meant to represent metal plaques, and wrist ornaments. Body paint is present on the creatures' feet, knees, hands, and arms. The figures grasp a single teardrop-shaped object, and others like it are shown between and above the figures. This form, depicted often in Moche ceramics, has been called an "ulluchu" fruit, and scholars have suggested that it has hallucinogenic or anti-clotting properties (McClelland, 2008). Modern-day identification of the ulluchu has not been successful, however, despite the fact that desiccated examples have been found in Moche burials. The vessel's spout is decorated with a catfish motif enclosed within two wave borders.

The stirrup-spout vessel—the shape of the spout recalls the stirrup on a horse's saddle—was a much favored form on Peru's northern coast for about 2,500 years. Although the importance and symbolism of this distinctive shape is still puzzling to scholars, it has been suggested that the double-branch/single-spout configuration may have prevented evaporation of liquids, and/or that it was convenient for carrying. Early in the first millennium AD, the Moche elaborated stirrup-spout bottles into sculptural shapes depicting a wide range of subjects, including human figures, animals, and plants, worked with a great deal of naturalism. About 500 years later, bottle chambers became predominantly globular, as in the present example, providing large surfaces for painting complex, multi-figure scenes. The style of painting on this vessel is known as "fineline," so named for the detailed compositions delicately painted in red slip (a suspension of clay and/or other colorants in water) on a white background.

The Moche (also known as the Mochicas) flourished on Peru's North Coast from 200 – 850 AD, centuries before the rise of the Incas. Over the course of some six centuries, the Moche built thriving regional centers from the Nepeña River Valley in the south to perhaps as far north as the Piura River, near the modern border with Ecuador, developing coastal deserts into rich farmlands and drawing upon the abundant maritime resources of the Pacific Ocean's Humboldt Current. Although scholars do not agree on the precise nature of Moche political organization, these centers clearly shared unifying cultural traits such as religious practices (Donnan, 2010).

References Donnan, Christopher B. "Moche State Religion." In New Perspectives on Moche Political Organization, edited by Jeffrey Quilter and Luis Jaime Castillo. Washington D.C.: Dumbarton Oaks Research Library and Collection, 2010.

Donnan, Christopher B. and Donna McClelland. Moche Fineline Painting, Its Evolution and Its Artists. Los Angeles: Fowler Museum of Cultural History, University of California, 1999. See especially p. 78, fig. 4.1.

McClelland, Donna. "Ulluchu: An Elusive Fruit," in The Art and Archeology of the Moche, edited by Steve Bourget and Kimberly l. Jones, pp. 43-65. Austin: University of Texas Press, 2008.

Sawyer, Alan Reed. Ancient Peruvian Ceramics: The Nathan Cummings Collection. New York: The Metropolitan Museum of Art, 1966. See especially no. 64, p. 46.

Wassermann-San Blás, Bruno John. Céramicas del antiguo Perú de la colección Wassermann-San Blás. Buenos Aires: Bruno John Wassermann-San Blás, 1938. See especially no. 4, p. 5.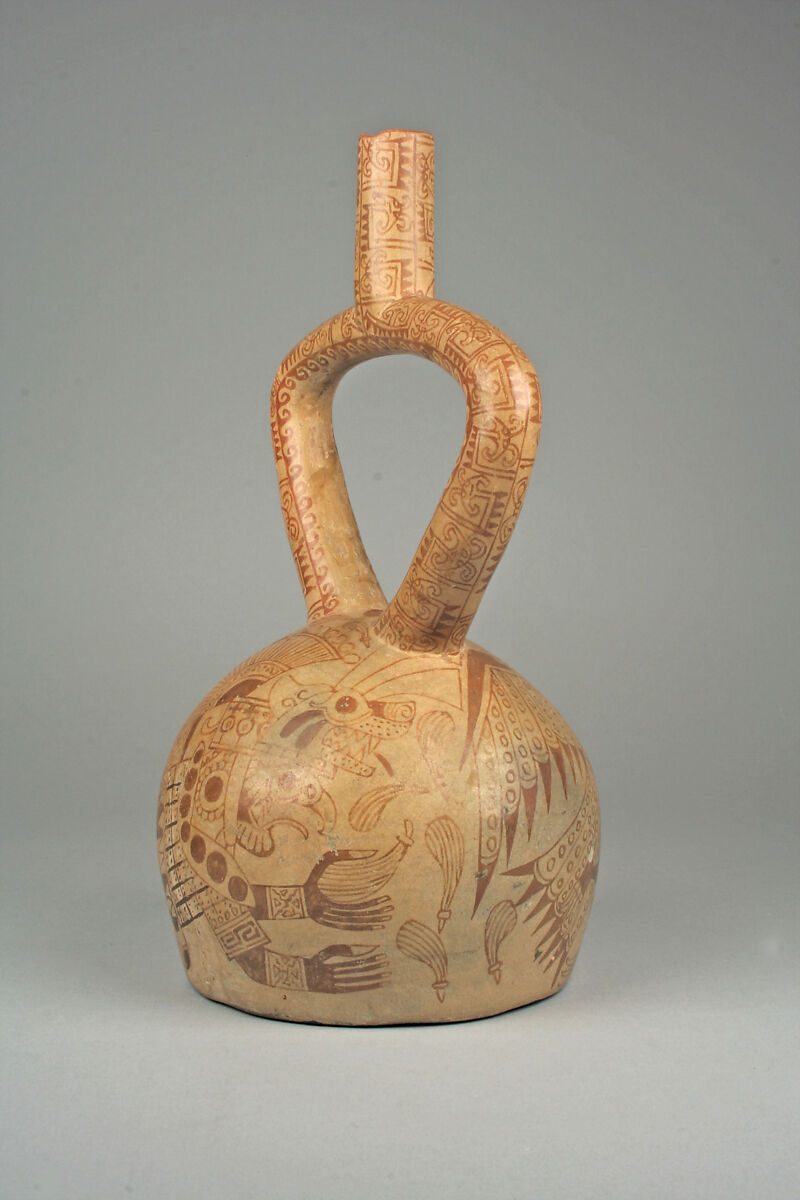 This artwork is meant to be viewed from right to left. Scroll left to view more.