Janus Helmet Mask (Wanyugo)
Not on view
Zoomorphic helmet masks like the one seen here are worn by members of the all-male Senufo association known as Poro, during funerals of important elders and other ceremonies. These prestigious and powerful masks are visual statements that acknowledge the reality of evil while simultaneously offering a means to control it.

The masquerade incorporates natural substances and iconographic elements linked to the aggressive and combative powers of dangerous creatures of the bush. This mask's virulent attributes—jaws and teeth like the crocodile's, horns like the great antelope's, and tusks like the warthog's—are but a few of the elements that allude to knowledge, power, danger, and death. The most dominant motifs of these wanyugo helmet masks are the warthog tusks that sprout from the top and sides of the two snouts. The wild boar, when angered, is a destructive and mindless force, its erratic and violent nature the very opposite of the principles the Poro society emphasizes with regards to ideal human behavior. The daggerlike tusk is a visual metaphor of the pain and disorder that is brought about in Senufo society through supernatural and human malevolence. The sculptor contrasts the sharp angles of the many teeth and tusks with the more supple forms of a pair of chameleons at the top of the helmet. The chameleon is a potent icon with references to transformational powers as well as primordial knowledge.

The double-sided construction of this helmet adds to its effectiveness in confronting harmful forces. The awe-inspiring faces are able to see and combat evil directed from any angles, and are twice as potent. Through the assemblage of various sculptural elements in combination with dance movements and musical accompaniment, Senufo artists have crafted powerful and complex images that protect the community against evil in both human and spirit form.

The Senufo peoples consist of more than thirty subgroups with many local variations of language and custom, and occupy a large area that spans the national boundaries of Côte d'Ivoire, Mali, and Burkina Faso. Among Senufo males, participation and completion of Poro society rituals is universal. Initiation societies like Poro extend across kinship lines and household ties and create a vital sense of cohesion within the community. In a highly structured series of age grades and corresponding rites, the initiate "walks the path of Poro," which leads to responsibility, wisdom, and maturity. Graduation ceremonies, characterized by strenuous masquerade performances, are moments of great joy and pride, as the men assume positions of greater respect and authority within their community.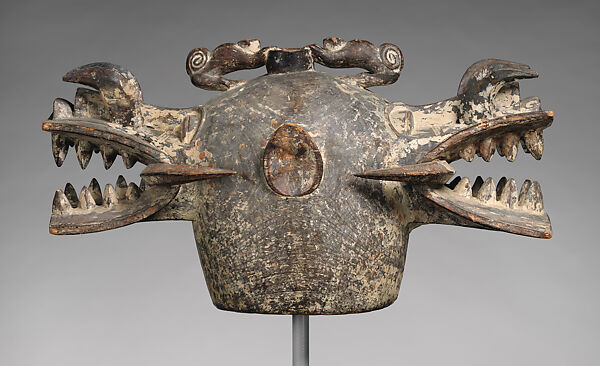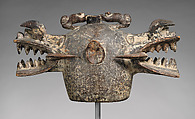 This artwork is meant to be viewed from right to left. Scroll left to view more.