Face Mask (Kpeliye'e)
Not on view
The term Senufo refers to a group of more than thirty interrelated languages and the people who speak those languages in a region that spans the present-day national boundaries of Côte d'Ivoire, Mali, and Burkina Faso. Senufo arts and cultural practices display great regional variation. Three broad cultural divisions reflect general differences in dialect and sculptural style: southern Senufo in the region around the Ivoirian town of Katiola; northern Senufo in the vicinity of the Malian city of Sikasso; and central Senufo living in the vicinity of Korhogo, an important administrative center in Côte d'Ivoire. Bondoukou, Korhogo, and Boundiali, three cities across northern Côte d'Ivoire, have historically been centers where face masks have been produced.

Throughout the twentieth century, male performers wore raffia-fringed face masks, capes, and full-body outfits to entertain audiences at funerals, commemorative ceremonies, and other events in Senufo communities. Masqueraders' feminine dance movements pay homage to the importance of women. The face masks often emphasize feminine facial features and are embellished with geometric and figurative elements. The innovative sculptor who conceived of this delicately carved mask elongated the figure's nose to create an attenuated pointed beak and underscored linear design elements.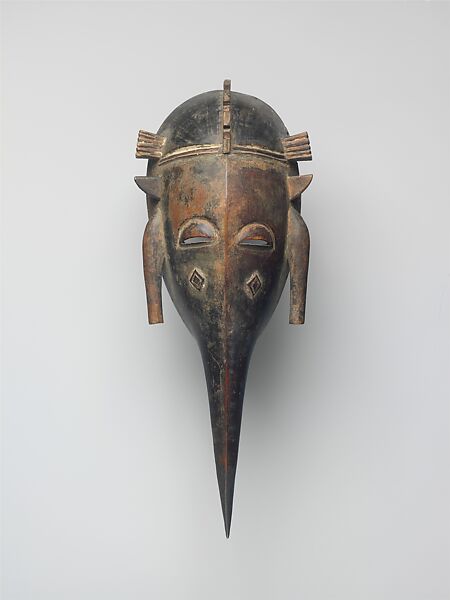 This artwork is meant to be viewed from right to left. Scroll left to view more.