Twin Figurine
Not on view
Diviners in Senufo communities act as intermediaries between humans and potentially hostile nature spirits. The women's sandogo association trains many of the diviners in northern Côte d'Ivoire, but other resourceful men and women also learn how to divine. Clients seek consultations with divination experts when illness or disaster strikes, before pursuing a new project, or to prevent future calamities. Successful diviners depend on close interaction with nature spirits, or ndebele. They rely on artists to create works that will appeal to the ndebele spirits and induce them to relay messages between spirit and human realms.
Early in their careers, diviners acquire relatively inexpensive arts, including figurines made of copper alloy. Doubled or twin imagery often refers to the bush spirits, water spirits, biological twins, and otherworld partners that assist diviners in their work. Once they establish their practices and develop a broad clientele, they invest in more costly wood sculpture. Diviners who are able to commission more expensive works usually retain the less refined ones as well.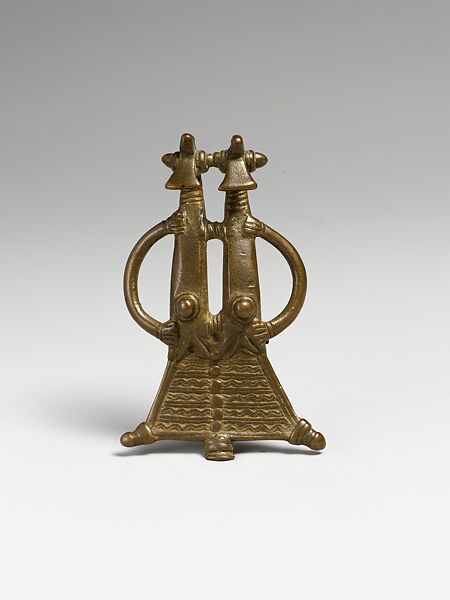 This artwork is meant to be viewed from right to left. Scroll left to view more.