Vessel: Head
Not on view
Founded in the early seventeenth century in what is today south-central Democratic Republic of Congo, the Kuba kingdom was a wealthy state with an elaborate, merit-based system of courtly titles. Because positions of power within the Kuba court were awarded rather than inherited, members of the aristocracy went to great lengths to distinguish themselves from their peers. Drawing upon the skill and talent of local artisans, they commissioned elegant personal accessories that displayed their prosperity, personal achievements, and upward mobility.

One way in which Kuba titleholders displayed their wealth and generosity was through the distribution of large quantities of palm wine to their friends and associates. At the court, drinking vessels were a vital accessory of great symbolic value. This ornately carved wooden cup combines human and animal forms to communicate ideals of refinement and power. Its elegant facial features are well formed and symmetrically arranged, while the mouth is small and closed, reflecting the belief that careful thought should always precede speech. The cup also depicts the Kuba aesthetic practice of shaving the hairline to frame and offset the forehead, considered the seat of wisdom and insight, and draw attention to the raised cicatrizes on the temples, another sign of cultural refinement. Large, curving horns are juxtaposed with these anthropomorphic elements. They evoke the ram, a dominant, aggressive animal that does not tolerate rivals. In the competitive atmosphere of Kuba political life, a man who embodied the dual qualities of cultivation and ambition could expect to attain impressive titles and awards.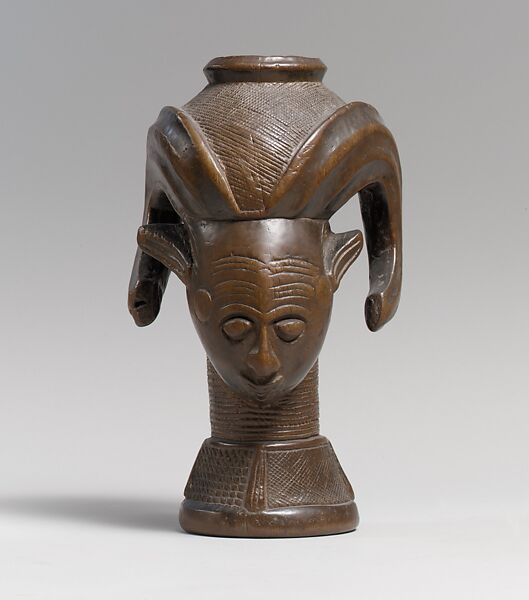 This artwork is meant to be viewed from right to left. Scroll left to view more.