Bracelet
Not on view
As early as the fifteenth century, the Yoruba kingdom of Ijebu was a major brass-casting center that cast metalworks for a wide range of courtly and religious contexts. Bracelets like this one were created for elites such as rulers and priests as well as members of the Osugbo society. Male and female Osugbo officials were charged with a judiciary role and regulated chiefly succession. While many such items of worldly finery accompanied their owners to the grave, others were cherished heirlooms passed down to successive generations.

The style of representation evident in the ornamentation of this especially elaborate armlet is characteristic of the Ijebu sculptural style, which employs sinuous line and open space to create delicate patterns of exceptional complexity. Four figures dressed in conical hats, crossed bandoliers, and wrappers are arrayed evenly across the surface. Their bulging foreheads display twin crescent marks, indicating that they are Osugbo priests. Below, pear-shaped bodies with fleshy, protruding stomachs are supported by diminutive, twiglike legs. Disembodied heads, also with conical hats but lacking forehead markings, appear to either side of the chiefly figures. They are superimposed on solid panels with scalloped edges. Series of diagonal lines and zigzags that form triangles and diamonds cover much of the bracelet's surface. The rulers' arms, which are bent at the elbows and wrists, mimic these angular forms and serve to integrate the figures seamlessly into the overall design. Loops at the armlet's flanges attest to the presence of small metal bells, now missing, which would jingle at the slightest movement and call attention to this beautiful and costly ornament.

The depictions of heads and Osugbo priests suggests that this armlet was worn by a high-ranking chief. By invoking Osugbo, the ruler indicated the legitimacy of his power, while the disembodied heads may refer to subchiefs over whom he held authority.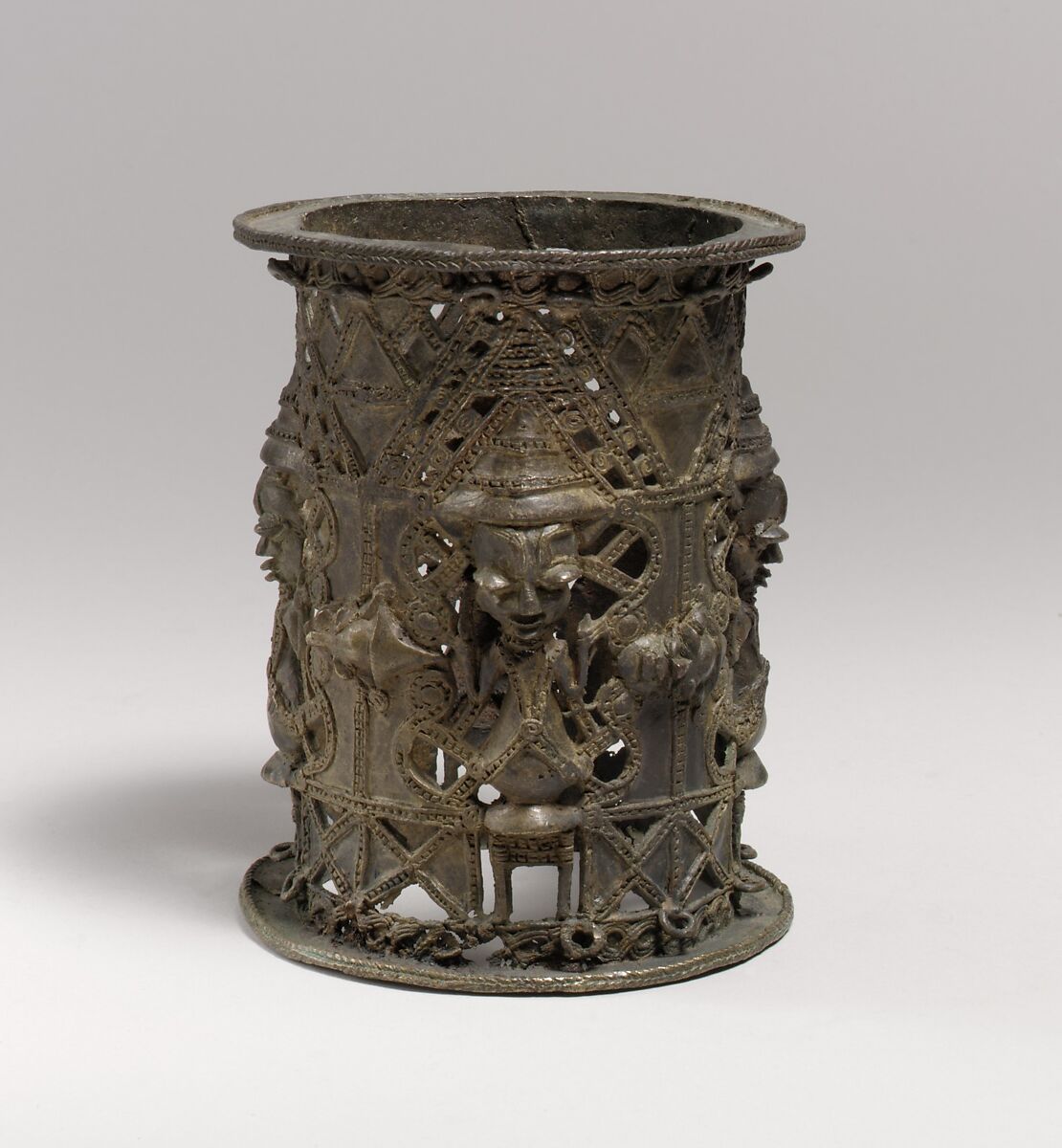 This artwork is meant to be viewed from right to left. Scroll left to view more.