Seated Female Figure
Not on view
In the form of a seated royal Maya woman, this figurine also probably functioned as a whistle, with the mouthpiece cleverly hidden in the coiffure of the subject and an opening on the figure's right shoulder. The woman crosses her legs which are covered by a long skirt. Her hands rest on her shins and she wears cuffs composed of tubular beads, likely depicting jadeite or greenstone. Other jade ornaments are depicted, including an earflare assemblage (see 1989.314.15a, b) and a necklace with spherical beads, further underscoring her status as part of a royal court. She sits upright, wearing a flowing off-the-shoulder huipil blouse or cape (or, perhaps a garment known in Nahuatl as quechquémitl). The garment, modeled separately from the body, retains the original fingerprints of the figurine's maker in multiple places. Her hair is swept back and held with a headband with a tie on the front, cascading onto the forehead.

Hand-modeled and molded figurines were an integral part of ancient Maya ritual, both in life and in funerary contexts. Potters sometimes replicated full scenes of courtly life in reduced scale, with figurines for kings, queens, and courtiers such as scribes, performers, and even supernatural personalities. More than representations and instruments, figurines also held a deeply sacred significance. The woman's naturalistic face here emphasizes the connection of human depictions with those of the Maize deities; Classic Maya people practiced cranial modification to create the high sloping forehead as a symbolic reference to the maize cob and agricultural fertility.

Many such figures, whistles, and rattles are known from the small island of Jaina, Campeche, Mexico, where numerous burials contained such objects as funerary offerings. Recent archaeological discoveries have confirmed that the "Jaina-style" Maya figurines were produced over a wide geographic range throughout the Yucatan peninsula, and often exchanged.

Further reading

Benavides Castillo, Antonio, and Sara Novelo Osorno. "Rescate de la zona arqueológica Isla de Jaina." In Catálogo de investigaciones INAH 2006, pp. 26-27. Mexico City: Coordinación Nacional de Antropología, Instituto Nacional de Antropología e Historia, 2006.

Benavides Castillo, Antonio. "Informe de labores arqueológicas realizadas en la Isla de Jaina durante la temporada de 1986." Revista indigenista latinoamericana I (1998):3-7.

Finamore, Daniel and Stephen D. Houston. Fiery Pool: The Maya and the Mythic Sea. New Haven: YaleUniversity Press and Salem: Peabody Essex Museum. [pp. 58–61, Pls. 9–16]. 2010.

Garcia Moll, Roberto. "Los mayas, arte y memoria." In Beatriz de la Fuente, ed., Mexico en el Mundo de las Colecciones de Arte, Vol. 2. Mexico: D.R. Primera. [See especially p. 39.]. 1994.

Halperin, Christina T. Maya Figurines: Intersections between State and Household. Austin: University of Texas Press, 2014.

Miller, Mary Ellen. Jaina Figurines: A Study of Maya Iconography. Princeton: Princeton Art Museum. 1975.

Miller, Mary and Simon Martin. Courtly Art of the Ancient Maya. New York: Thames and Hudson. [Pls. 5, 8, 10-13; also 18web, 19, 41, 42, 44, 53, 57-60, 94-97, & 110-112]. 2004.

Navarro-Farr, Olivia C., Mary Kate Kelly, Michelle Rich, and Griselda Pérez Robles. Expanding the canon: Lady K'abel the Ix Kaloomte' and the political narratives of classic Maya Queens. Feminist Anthropology 38-55.

O'Neil, Megan E. "Jaina-Style Figurines," in Ancient Maya Art at Dumbarton Oaks, edited by Joanne Pillsbury, Miriam Doutriaux, Reiko Ishihara-Brito, and Alexandre Tokovinine, pp. 400-403. Washington, DC: Dumbarton Oaks Research Library and Collection, 2012.

Piña Chan, Román. Jaina, la casa en el agua. Mexico City: Instituto Nacional de Antropología e Historia, 1968.

Rich, Michelle, and David Freidel. "The El Perú-Waka' Burial 39 Figurine Scene: The Importance of Archaeological Context and Potential of a Gendered Approach." In Figurillas mesoamericanas: contextos, representaciones y usos: una mirada caleidoscópica, edited by P. Horcajada Campos and M. J. Gallegos Gómora. Mexico City: Autonomous University of Yucatán. 2017.

Taube, Rhonda, and Karl A. Taube. "The Beautiful, the Bad, and the Ugly: Aesthetics and Morality in Maya Figurines." In Mesoamerican Figurines: Small-Scale Indices of Large-Scale Phenomena, edited by Christina T. Halperin, Katherine A. Faust, Rhonda Taube, and Aurora Giguet, pp.236-258. Gainesville: University Press of Florida, 2009.

Triadan, Daniela. "Warriors, Nobles, Commoners and Beasts: Figurines from Elite Buildings at Aguateca, Guatemala." Latin American Antiquity 18 (2007):269-293.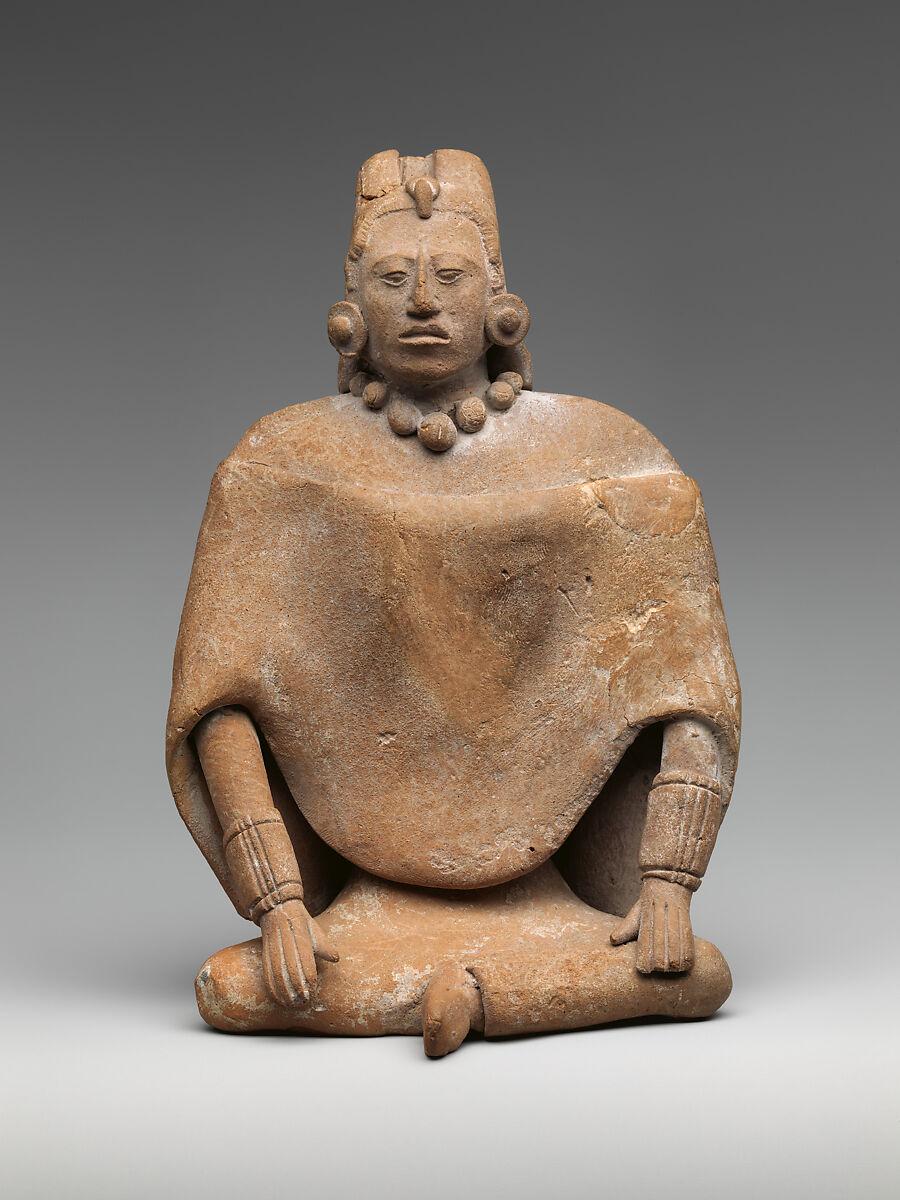 This artwork is meant to be viewed from right to left. Scroll left to view more.