Standing figure
Not on view
The city of Tiwanaku near the southern shore of Lake Titicaca in the Bolivian highlands has been renowned for its stone architecture and imposing, finely carved stone sculptures since the sixteenth century. A small version of a type of columnar stone image that existed at Tiwanaku in sizes that reach twenty-four feet in height, this figure is thought to depict an elite lineage founder. While the full-size sculptures may have been part of public rituals honoring ancestors, the smaller version may have been for private ceremonies conducted by upper-class families or clans.

Contained within the roughly rectangular confines of the stone block, the figure has a large head topped by a plain cap with a chin strap. Prominent square, slightly bulging eyes have small profile animal heads incised below them like a band of tears. The figure holds two objects—possibly snuff trays—with stylized, symmetrical hands tightly clasped to his unclad chest. A patterned kilt with a delicately incised design of stylized faces and squares in diagonals covers the lower body. It is an arrangement known from textiles of the period. A wide belt encircles the waist to keep the kilt in place. It is decorated with rayed medallions reminiscent of the rayed face of Tiwanaku's principal deity.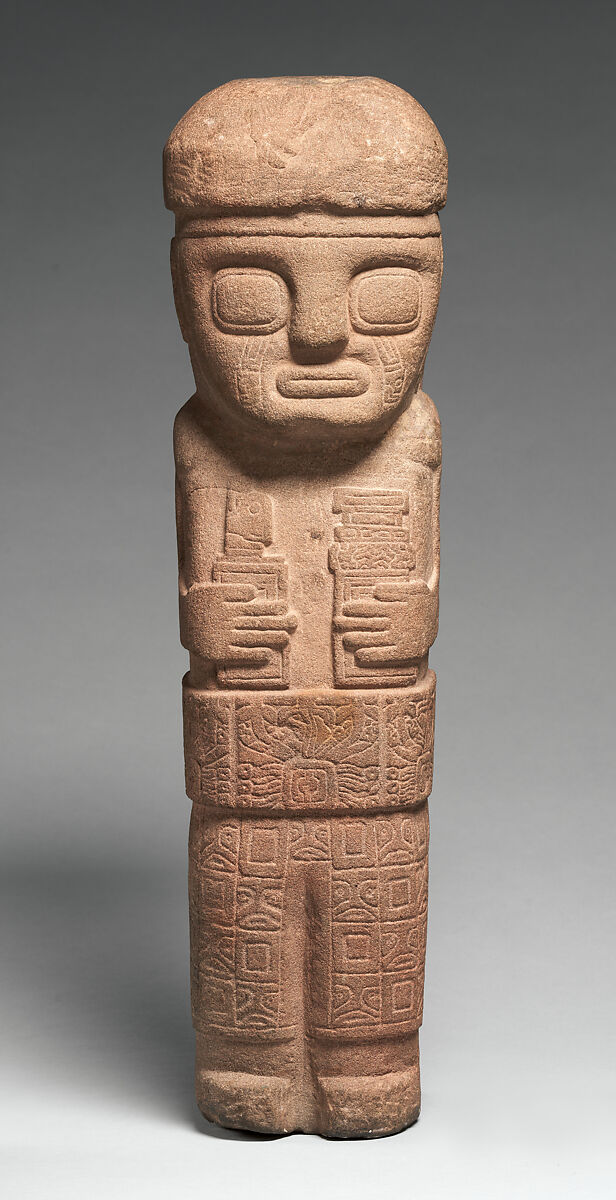 This artwork is meant to be viewed from right to left. Scroll left to view more.