Bis Pole
Not on view
The Asmat honored their dead with feasts and rituals, which both commemorated the deceased and reminded the living to avenge their deaths. The towering Asmat "bis" poles were made for these funeral feasts. The basic form of the bis is an openwork pole incorporating several ancestor figures and a winglike projection that represents the pole's phallus.

In Asmat belief, no death was accidental. Each death was always caused by an enemy, either through headhunting raids or sorcery. Death created an imbalance in society, which the living had to correct by taking an enemy head. When a village had suffered a number of deaths, it would hold a bis ceremony, which consisted of a series of feasts held over several months. A number of bis poles were carved for the ceremony and displayed in front of the men's house, where they formed the center of a mock battle between men and women. The poles were kept until a successful headhunt had been carried out and the balance restored. After a final feast, the Asmat abandoned the bis poles in the sago palm groves from which they obtained their primary food. As the poles decayed, their fertile supernatural power seeped into the earth and fertilized the sago trees.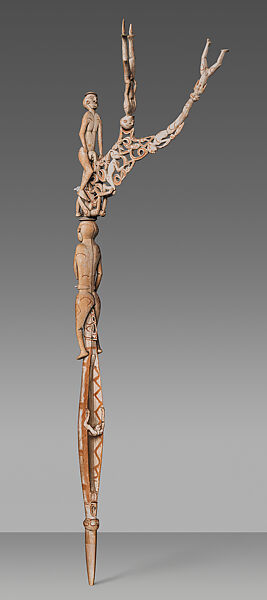 This artwork is meant to be viewed from right to left. Scroll left to view more.