Helmet Mask (Goli Glin)
Not on view
Throughout history, Africa's forms of artistic expression have been marked by continuous change. In some instances, new traditions have arisen to meet local needs inspired by ideas introduced by outside sources. In others, historical practices lost the immediacy of their appeal and were discontinued. Such processes underlie sculptural forms that have become integrally associated with Baule culture.

A form of artistry that remains a vital source of entertainment in Baule culture is the complex of masquerades known as goli. The goli dance came into use among the Baule after 1910, when it was acquired from the neighboring Wan. Wan sculptural forms and lyrics were faithfully preserved and integrated into a completely Baule ideological framework. Four different masquerade pairs perform in a hierarchical sequence. The sculptural component of the next to last of these, goli glin, fuses the head of a bush cow with the horns of a gazelle.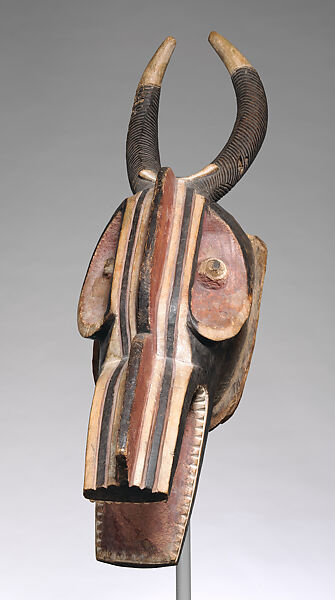 This artwork is meant to be viewed from right to left. Scroll left to view more.