Carrying Bowl (Finola)
Not on view
The wood carving of the Kaniet Islands north of New Guinea combines the angularity and emphasis on form typical of Micronesian art with complex openwork carving, and the intricate embellishment of the major design elements with minute notches, which give a delicate texture to the often severe angularity of the edges. A distinctive accessory for prominent Kaniet Islands men was the finola, a canoe-shaped carrying bowl adorned with intricate openwork ends that resemble the bow and stern carvings on the islands' canoes.

Suspended from cords of finely coiled coconut-husk fiber, which served as handles and prevented larger objects from falling out, finola were used to carry essential supplies for chewing betelnut, a mild stimulant used widely throughout the western Pacific, and other personal items. Larger examples were also used in birth ceremonies. Shortly after birth, the child was laid in a finola and washed with fresh water, after which its hair was ritually singed with a hot coal and its body anointed with coconut oil. Only after this ceremony was complete were the women of the community allowed to offer their congratulations to the new parents.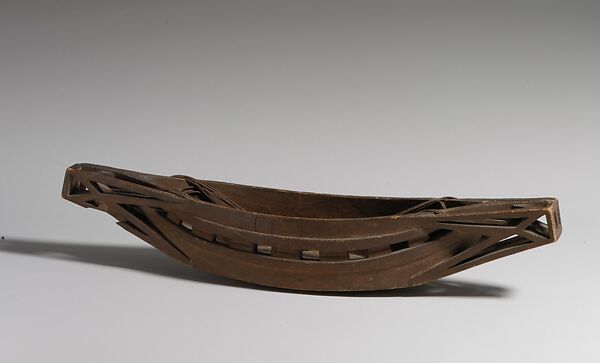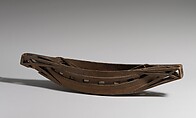 This artwork is meant to be viewed from right to left. Scroll left to view more.