Figure (Hampatong)
Not on view
The Ngadju and Ot Danum peoples live along the inland sections of several of the rivers that drain into the southern coast of Borneo. Like many of Borneo's indigenous peoples, the Ngadju and Ot Danum erect human or animal figures near the entrances to their dwellings and along footpaths leading from their villages to the river. Known collectively as hampatong, some figures portray ancestors and other supernatural guardians who prevent dangerous spirits, particularly those bringing sickness, from entering community.
Some hampatong include depictions of luxury goods obtained from coastal Islamic peoples who live in cities near the mouths of Borneo's great rivers. For centuries the island's indigenous peoples have exchanged forest products, such as aromatic resins, wood, and animal hides, for imported goods brought upriver by traders. Among the most prized are large earthenware jars, which constitute an important form of wealth. This imposing hampatong depicts a male figure seated on such a jar.
Among the Ngadju/Ot Danum each hampatong is carved for a specific purpose and personifies a particular ancestral spirit or deity. This figure's elaborate headdress and the replication in wood of the highly valued jar suggest that a deceased person of high rank is represented. The spirit of the deceased had to temporarily inhabit the hampatong before it could begin its long and dangerous journey to the next world. In addition to anthropomorphic figures, images of protective creatures such as tigers, bears, and leopards are also carved for the funerals of important persons. This figure's tranquil naturalism distinguishes it from other types of hampatong, which are often characterized by such exaggerated features as bulging eyes or aggressively protruding tongues.
#1708. Figure (Hampatong)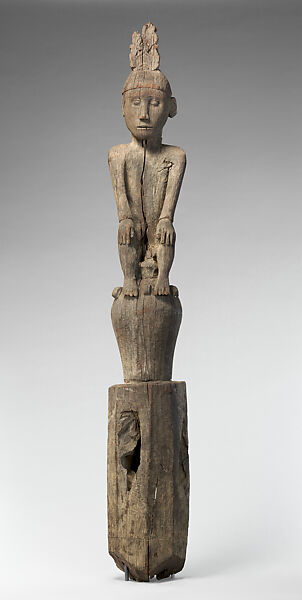 This artwork is meant to be viewed from right to left. Scroll left to view more.