Ritual Seat for a Noble (Osa' osa)
Not on view
The people of Nias Island off the southwest coast of Sumatra are renowned for their monumental stone carving. Much of Nias stone sculpture is commemorative in nature—created to honor members of the nobility, both living and dead. Ritual stone seats (osa' osa) are unique to the central region of the island; they serve as chairs for high-ranking nobles at feasts and other ceremonial occasions, where they are set up near the home of the feast giver as a sign of his or her exalted rank. This example is of a type called "hornbill" (gogowaya), named for a large bird important in many Indonesian and Melanesian cultures. The "hornbill" here is depicted not as a discrete species but as a mythical animal that combines the teeth of a fearsome carnivore and the antlers of a deer with the distinctive beak, crest, and tail of the hornbill. The result is a composite creature, which acts as a fearsome protector of the nobility and their ancestors.
#1757. Ritual Seat for a Noble (Osa' osa)
Playlist

1757. Ritual Seat for a Noble (Osa' osa)

1185. Kids: Ritual Seat for a Noble (Osa' osa)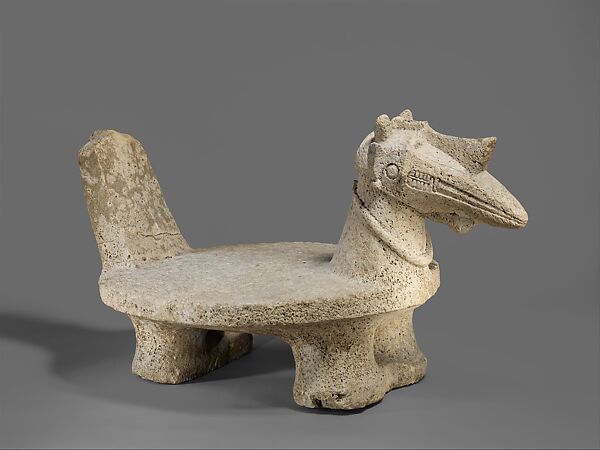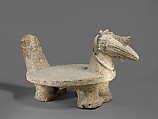 This artwork is meant to be viewed from right to left. Scroll left to view more.