Finial from a Ritual Staff (Tungkot Malehat)
Not on view
This kneeling figure is almost certainly the finial of a tungkot malehat, a type of ritual staf used by religious specialists among the Batak people of Sumatra. The tungkot malehat features a single wooden or metal figure that was often carved or cast separately (as with the present example) and then joined to a staff of rattan or bamboo. A brass figure similar to this one still attached to its wooden staff in the collection of the Volkenkundig Museum Nusantara, Delft, strongly suggests that the Metropolitan's piece served the same function.
The cast figure has a large head crowned by a helmet-like headdress decorated with bilaterally symmetrical double spirals and a beaded border. He wears a matching beaded torque around his neck and holds a cylindrical vessel in his lap. The figure is hollow and filled with a dark, hardened substance that was probably added to increase the object's supernatural efficacy.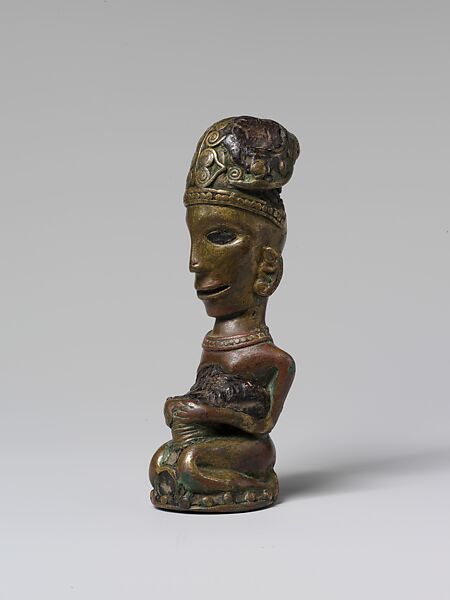 This artwork is meant to be viewed from right to left. Scroll left to view more.