Ceremonial Textile (Tampan)
Not on view
Situated along the Sunda Strait between Java and Sumatra, a crucial trade route since antiquity, the Lampung region of southern Sumatra has long been a crossroads of cultures and artistic traditions. Lampung's sumptuous textile traditions reflect the enormous wealth brought to the region through the trade in pepper, which grew in abundance. The women of Lampung developed a rich variety of textiles that included ceremonial forms as well as other types, which were used as clothing. Among the most visually striking Lampung textiles are the intricately woven tampan, small square-shaped cloths that were exchanged during important rites of passage. Tampan were owned and used by virtually every Lampung family to consecrate ritual occasions and to assist each individual as he or she progressed through the diverse ceremonies that marked the various stages of life. Tampan were displayed or exchanged at both birth and death, at marriages, circumcisions, and ceremonies marking changes in social rank. They served as the focal point for ceremonial meals, as the seat for the elders who oversaw traditional law, and were tied to the ridge poles of newly built houses. They were a sacred force that bound society together.

Tampan occur in two regional styles and in two primary colors. Those woven in blue depict the secular realm, those in red the sacred. Examples from the inland mountains show stylized natural or domestic subjects and geometric designs, while those from the coast (tampan pasisir) display richly detailed scenes of ships and other motifs. Although tampan were used by all social classes, the ornate tampan pasisir, such as the present work, were a prerogative of the nobility.

The fanciful ships that appear on tampan pasisir, steered with the exterior rudders distinctive to Indonesian and South Asian vessels, may recall the forms of large trading ships that plied the seas in precolonial times. Shown in cross-section, the ship on this work is a virtual floating palace. Within it, a single human figure, almost certainly a person of authority, lies in a cabin in the stern, accompanied, perhaps, by an attendant. Forward of the cabin, a helmsman guides the ship with a steering oar. In the central cabin, a group of men (identified by the presence of the kris [daggers], in their belts) play a group of instruments similar to a traditional Javanese gamelan orchestra. The crew appears on deck and the skies above and sea below teem with fantastic life. Replete with images of abundance and regal ease the work portrays an idealized world of opulence, beauty, and power.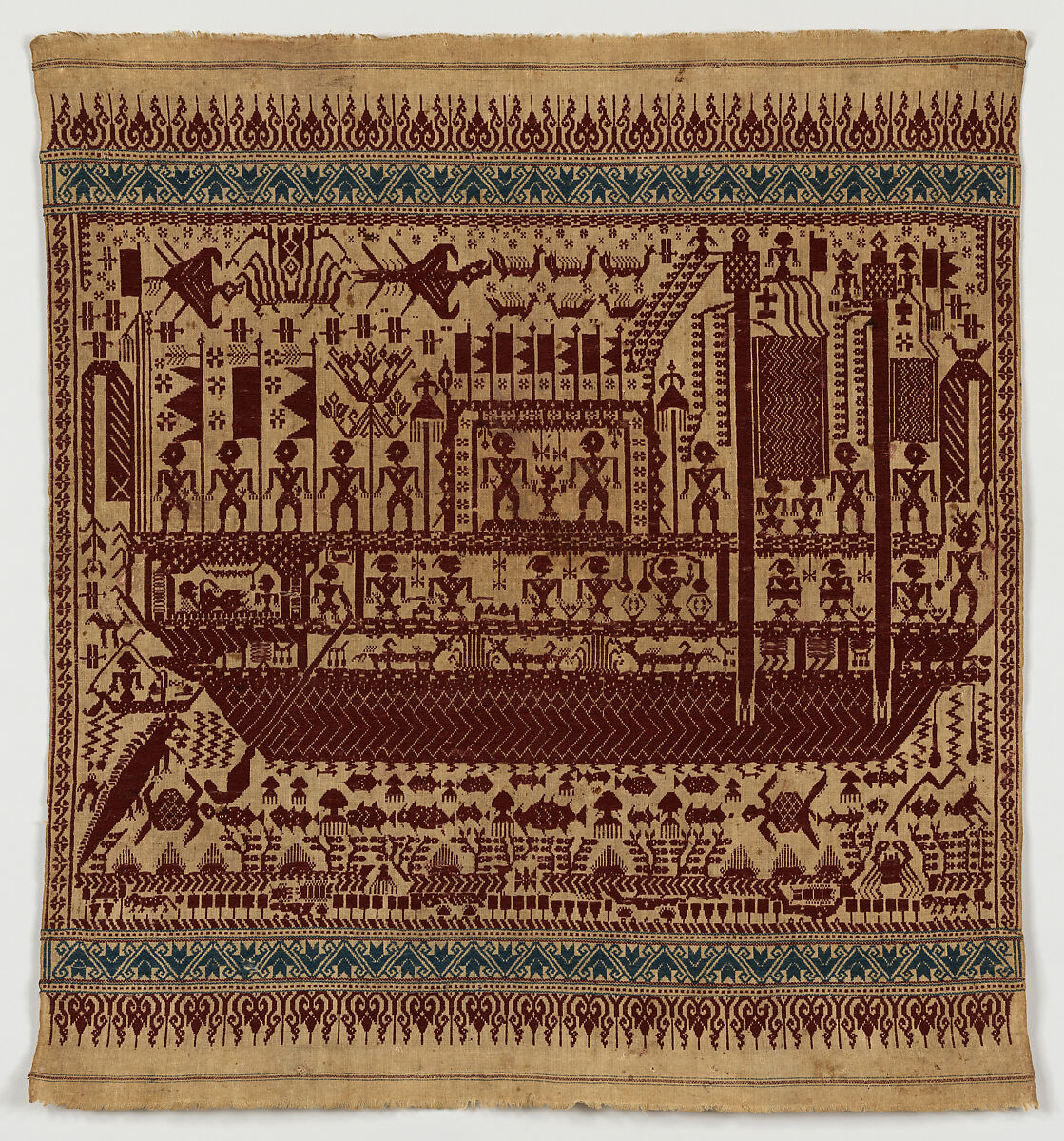 This artwork is meant to be viewed from right to left. Scroll left to view more.