Skirt (Isikhakha or Umbhaco)
Not on view
Beadwork has been a major form of aesthetic expression in southern Africa for nearly 200 years. Among the many diverse ethnic groups of the region, the Xhosa peoples have an especially rich tradition of beaded regalia. This elegant textile skirt, also known as an isikhakha or imibhaco, is one example of the incorporation of beadwork into garments. Xhosa people commonly wear a plain white (or occasionally red) wrapper. In this case, a white cotton blanket has been colored with ocher, yielding a rich reddish-brown fabric that was then cut and sewn into three sections to form this skirt. Depending on the specific region and Xhosa subgroup, the coloration of the textiles varies a great deal. This skirt features five rows of black appliquéd strips that follow the curve of the hem and are bordered by rows of delicate white and dark blue beads and narrow black appliqué strips. Between the rows are delicate, beaded appliqué designs alternating with buttons. The skirt can be worn with a beaded belt attached to which are two beaded tassels that extend to the ground. The combination of elaborate beadwork with vividly hued textiles and other materials like buttons and tassels yields both a rich, tactile surface and a beautiful aesthetic effect. Beaded works such as this were only truly complete when seen in their kinetic relationship to the human body—in some sense, like performance art or body art.

Beadwork traditions in southern Africa have undergone rapid changes in the last 150 years. When glass beads were first imported in small numbers to the region from Europe during the late eighteenth and early nineteenth centuries, they remained the exclusive domain of the ruling elite and a mark of their prestigious status. By the end of the nineteenth century, this region was the world's largest consumer of beads exported from Europe. Subsequently, the number and type of ornaments fashioned from beads increased significantly. Beadwork was, and remains, a women's art form. While beaded garments and items were used differently by various ethnic groups, in each society they played a key role in communicating aspects of the wearer's identity. Social and marital status, number of children, and a person's home region and ethnic subgroup were, and often still are, communicated through items of dress.

Traditional dress is still valued and worn as a sign of respect to the ancestors. In earlier times, missionaries insisted that converts to Christianity abandon indigenous fashions, so those who maintained it could easily be distinguished from converts. Traditionalists were often given a special name. The Xhosa term for traditionalist was amaQaba, the "Red People," because they continued to apply red ocher to their clothes and bodies.

Some beadwork and clothing, such as the long dress, beaded bags, and lacy-looking collars worn by some Xhosa-speaking peoples, were influenced be white settlers. It was the artists themselves, however, who invented most conventional designs, patterns, and techniques used in beadwork. Every beaded work expresses the creativity, careful planning, and expert execution of the person who made it.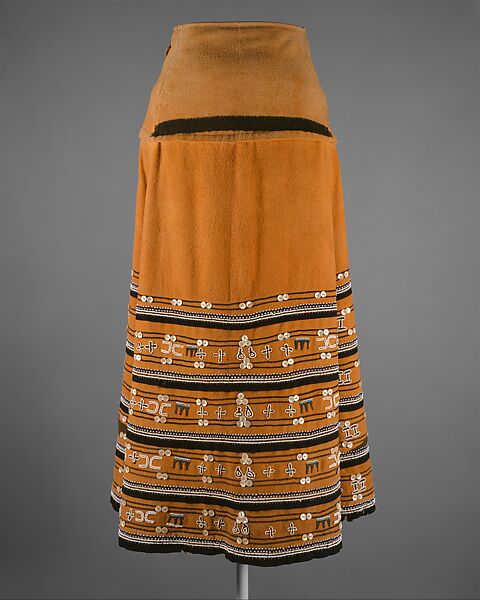 This artwork is meant to be viewed from right to left. Scroll left to view more.