Jar, Ritual Scenes
Not on view
The Classic Maya depicted many scenes of ritual imbibing of alcohol through enemas, and on this jar, several such scenes unfold around an upper and lower register. In paired-figure scenes, three around the neck and four around the body of the jar, a woman is shown taking care of a child, preparing a mixture in an enema bladder or gourd, and helping a male administer an enema to himself. The characters are painted in red, orange, and black, on a light orange background. The outflaring rim of the vessel is painted red, and the two registers are divided with three bands of geometric motifs.

The woman wears different long dresses in each scene with red-and-black geometric patterns, a white headband, and body paint on her face and arms. Her long hair hangs to her waist as she performs her tasks. The male accompanying her wears body paint, a headdress, and large ear spools. He seems to be learning the process of enema taking. In these rare scenes of ritual instruction, the characters are gesturing to each other, as if questions and explanations are being exchanged. The sequence of events seems to be that the male arrives to the woman wearing an enema bladder strapped to his lower back. She then prepares the enema for the man to take, either while she is holding it or he is holding it himself.

The jar is self-referential. Throughout the scenes appear jars of the same shape with the black dots near the rim indicating a foamy alcoholic beverage. Large jars of this form are known to have been used for fermented beverages, such as pulque, made from the sap of maguey (Agave Americana). The scenes and the jar may be related to a ritual of intoxication. The male in one lower scene bows his head and holds his hand to his mouth, as if he were not feeling well.

The woman could also be portrayed as a healer, someone with ethnobotanical knowledge sought after for remedies. Such a person may have played a widespread role within the Maya royal courts by providing enemas or other medicinal treatments. In fact, the "enema woman" is also crafted into a three-dimensional figure of a kneeling female holding a large vessel in the Princeton University Art Museum (2005-64 a-b). The jar she holds is globular with a cylindrical neck, similar to the Metropolitan's jar.
James Doyle, 2016

Further Reading
Tokovinine, Alexandre. " 'It is his image with Pulque': Drinks, Gifts, and Political Networking in Classic Maya Texts and Images." Ancient Mesoamerica 27(1): 13–29, 2016.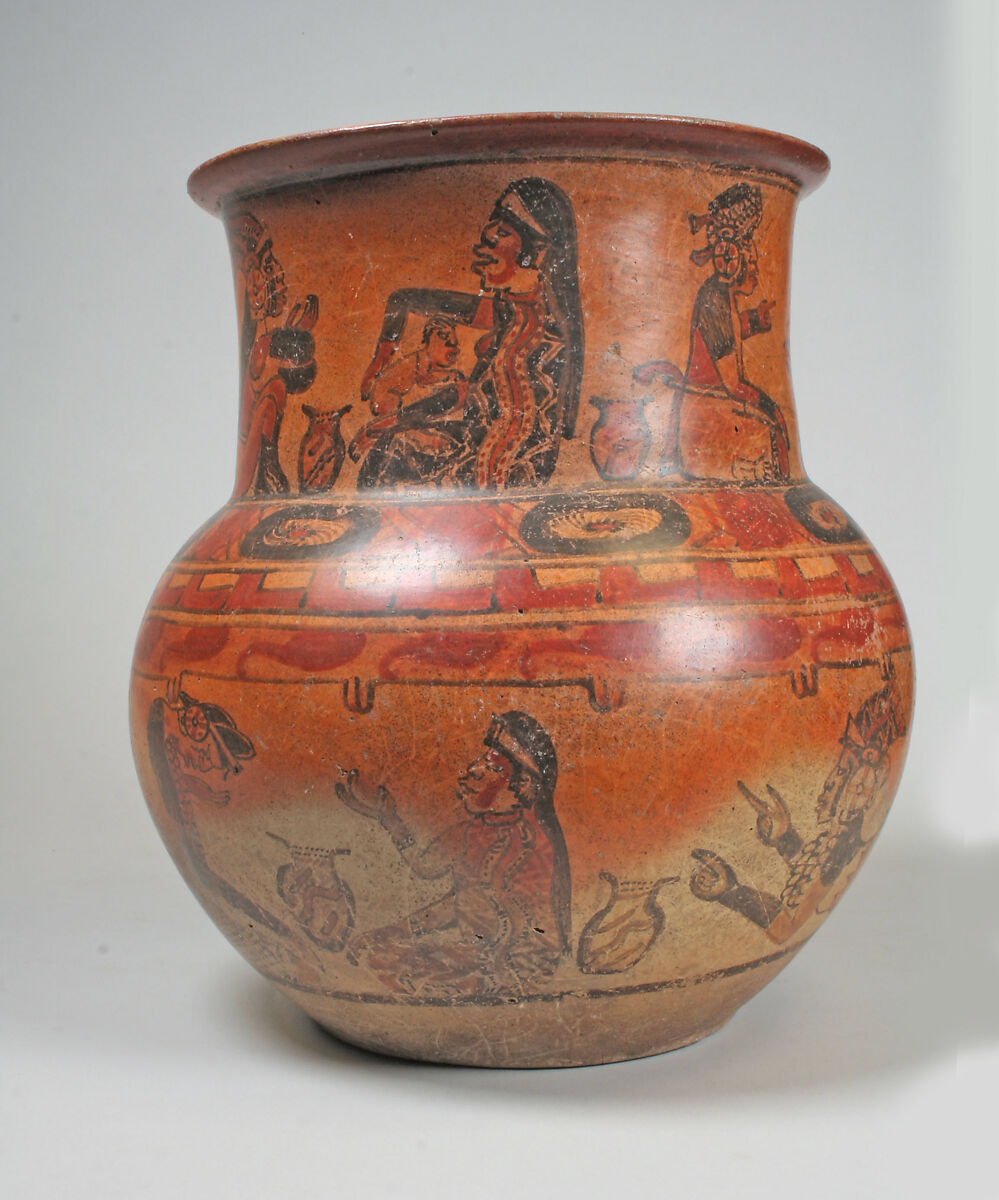 This artwork is meant to be viewed from right to left. Scroll left to view more.