Four-Cornered Hat
Not on view
Finely woven, brightly colored hats, customarily featuring a square crown, four sides, and four pointed tips, are most frequently associated with two ancient cultures of the Andes: the Wari and the Tiwanaku. The Wari Empire dominated the south-central highlands and the west coastal regions of what is now Peru from 500–1000 A.D. The Tiwanaku occupied the altiplano (high plain) directly south of Wari-populated areas around the same time, including territory now part of the modern country of Bolivia. The cultures not only developed and flourished as contemporaries, but also occupied adjacent lands for nearly four centuries. A Wari ceremonial center called Cerro Baúl was located a mere five miles from Tiwanaku-settled fields in the Moquegua Valley of Peru. The two cultures likely encountered each other at Cerro Baúl and elsewhere, but the nature of these interactions remains largely unknown.

Four-cornered hats from both the Wari and the Tiwanaku were made from camelid fibers carefully prepared into yarns and expertly dyed. Artists from the two cultures also employed similar geometric designs (primarily diamonds, crosses, and stepped triangles), and stylized images representing plants and zoomorphic forms such as long-legged birds and llamas with wings on their backs. The Wari and the Tiwanaku visual programs, comparable in design and pattern, suggest that they shared primary icons and a common religious foundation. A staffed deity with winged attendants frequently appears in the iconography of both cultures. Despite these parallels, scholars believe that the Wari and the Tiwanaku had distinct and separate socio-political practices, particularly in regards to governance and site building.

Although they shared certain technological traditions, such as complex tapestry weaving and knotting techniques, the Wari and the Tiwanaku utilized significantly different construction methods to create four-cornered hats. Wari artists typically fashioned the top and corner peaks as separate parts and later assembled them together. Tiwanaku artists generally knotted from the top down, starting with the top and four peaks, to create a single piece. In addition, four-cornered hats knotted with pile have largely been discovered at Wari sites, while those knotted without pile have been found in Tiwanaku burials. Through these variances, scholars have been able to attribute individual works to one group or the other.

Four-cornered hats, although found in burial sites as funerary offerings, have also been discovered with signs of repeated and general use, such as worn edges, ancient mends, and stains of hair oil. In Wari and Tiwanaku societies, four-cornered hats were likely worn by high-ranking men as symbols of power and status, both in life and in death. Figures wearing four-cornered hats are frequently depicted on ceramics from both cultures, worn alongside other elite regalia including elaborate textiles, featherworks, and beaded collars.

Ji Mary Seo
Lifchez-Stronach Curatorial Intern, 2018

References
Frame, Mary. Andean Four-Cornered Hats: Ancient Volumes. New York: The Metropolitan Museum of Art, 1990.

Fraresso, Carole. "Textiles and Divine Feathers of Ancient Peru." In Feathers: Visions of Pre-Columbian America, edited by Fabien Ferrer-Joly, 22-41. Paris: Somogy éditions d'art; Auch: Musée des Jacobins, 2016.

Giuntini, Christine. "Four-Cornered Hat." In Golden Kingdoms: Luxury Arts in the Ancient Americas, edited by Joanne Pillsbury, Timothy Potts, and Kim N. Richter, 160-161. Los Angeles: The J. Paul Getty Museum and The Getty Research Institute, 2017.

Goldstein, Paul, and Mario Rivera. "Arts of Greater Tiwanaku: An Expansive Culture in Historical Context." In Tiwanaku: Ancestors of the Inca, edited by Margaret Young-Sánchez, 150-184. Denver: Denver Art Museum; Lincoln: University of Nebraska Press, 2004.

Knobloch, Patricia J. "Archives in Clay: The Styles and Stories of Wari Ceramic Artists." In Wari: Lords of the Ancient Andes, edited by Susan E. Bergh, 122-143. Cleveland: Cleveland Museum of Art in association with Thames & Hudson, 2012.

Lumbreras, Luis Guillermo. "Middle Horizon (Wari and Tiwanaku)." In Peru: Art from the Chavín to the Incas, edited by Patrick Lemasson, 109-127. Paris: Skira, 2006.

Malpass, Michael A. "Clash of the Titans? Tiwanaku, Wari, and the Middle Horizon." In Ancient People of the Andes, 142-192. Ithaca: Cornell University Press, 2016.

Quilter, Jeffrey. Treasures of the Andes: The Glories of Inca and Pre-Columbian South America. London: Duncan Baird, 2005.

Williams, Patrick Ryan. "Cerro Baúl: A Wari Center on the Tiwanaku Frontier." Latin American Antiquity 12, no. 1 (2001): 67-83. http://www.jstor.org/stable/971758.

Williams, Patrick Ryan, and Donna J. Nash. "Clash of the Andean Titans: Wari and Tiwanaku at Cerro Baúl." In the Field (2003): 16-17.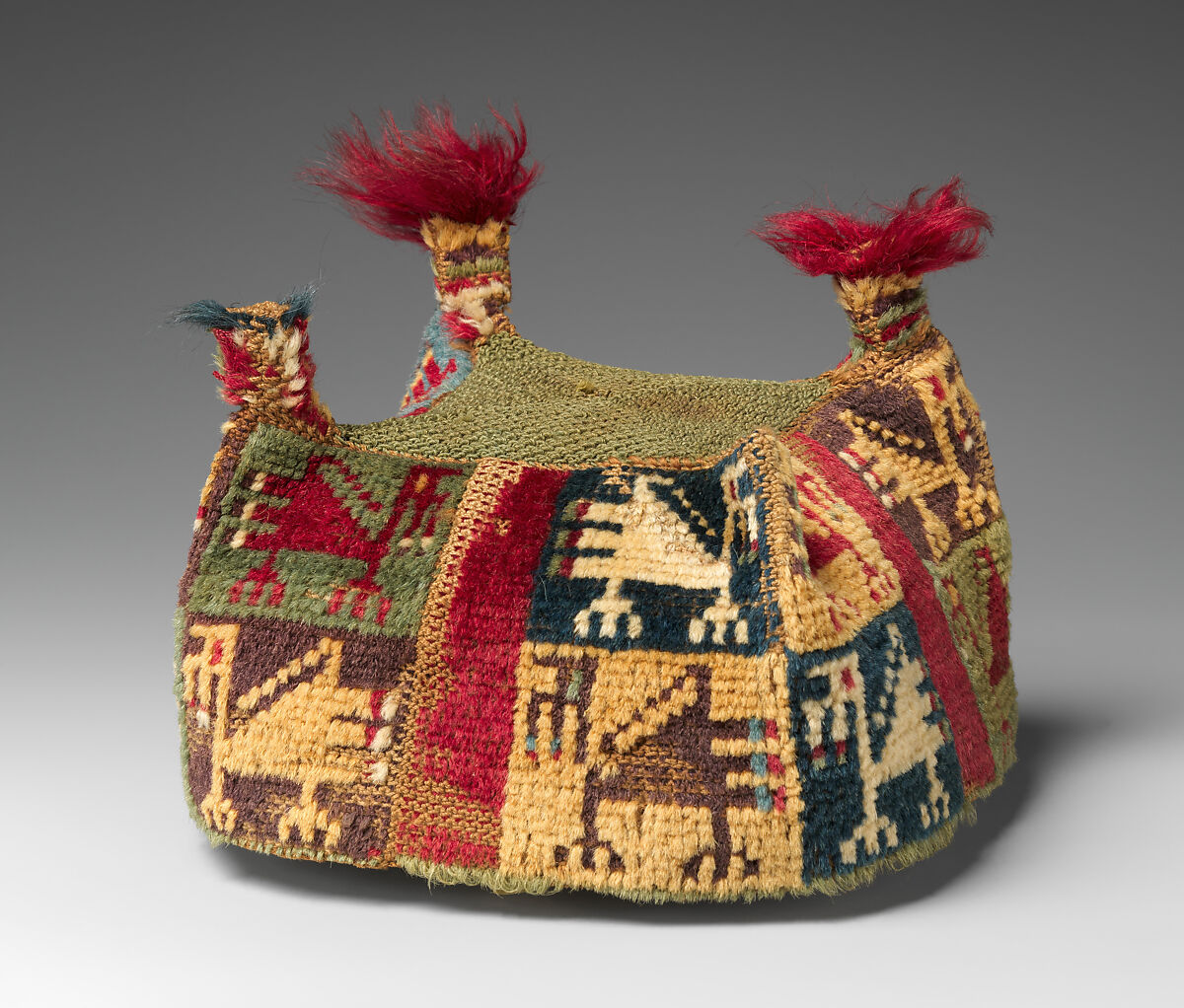 This artwork is meant to be viewed from right to left. Scroll left to view more.