Elephant Figure
Not on view
Fon silver works such as this silver elephant served as objects of power and prestige owned by a ruler of the Fon kingdom of Dahomey in the present-day Republic of Benin. In the eighteenth and nineteenth centuries, the kingdom of Dahomey prospered as a major center of the international slave trade. The Fon kings were important art patrons who engaged court artists to create items that enhanced their status. During annual festivities called huetantu, these lavish sculptures and textiles were paraded through the capital to celebrate the kingdom's wealth and military might.

The almost constant warfare that was required to maintain a steady supply of captured slaves resulted in a culture of militarism centered on the person of the king. Precious, metal-covered objects, like these two examples, were filled with supernaturally potent materials to protect the monarch and aid him in his military exploits. During times of war, these sculptures, called bocio, were placed in palace shrines where they were the focus of prayers and sacrifices to Gu, the deity associated with war.

During these times of crisis and before the coronation of a new ruler, the Fon leadership might consult fa, the regional system of divination. The elephant is one of fa's 256 symbols. It was associated with a specific ruler to help provide insights into the events that would mark his life. A ruler was so intimately allied with his emblem that it was believed he could assume that animal's form. Proverbs, poems, and songs are used to interpret each sign and corresponding visual arts.

The elephant is associated with both the Dahomey ruler King Guezo (r. 1818–58) and his son Glele (r. 1858–89). The animal is believed to evoke strength, royal legacy, and enduring memory as exemplified in the following proverbs: "There where the elephant passes in the forest, one knows" and "The animal steps on the ground, but the elephants step down with strength."

This exquisite example, comprised of a wooden core covered in hammered silver sheeting, was created by members of the royal guild at the height of the kingdom's influence. Few such silver Fon works were produced and the Fon emphasis on uniqueness, innovation, and originality increases their rarity.

This cast elephant is an exceptionally elegant example of Fon sculpture in the royal medium of silver. It's smooth uncorrupted surface enhances its overall harmony and delicacy.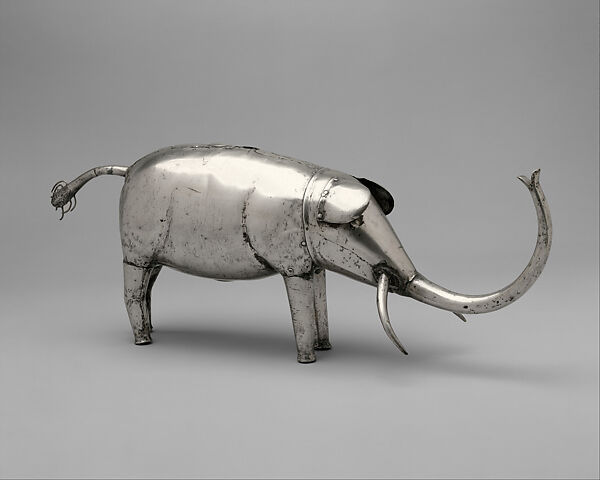 This artwork is meant to be viewed from right to left. Scroll left to view more.