Tetradrachm of Seleucus I
Not on view
Numismatists – the scholars who study coins – refer to the 'front' side of the coin, which usually features the head of a person or god, as the 'obverse,' and the 'back' side as the 'reverse.'

The obverse of this silver tetradrachm coin displays an idealized portrait of Seleucus I (r. 312–280 B.C.) wearing a helmet covered with a leopard skin and adorned with a bull's ear and horns. Around Seleucus' throat is another leopard skin, knotted in front by means of the beast's forepaws. The reverse of the coin has a winged, fully draped figure of Nike (Victory) standing on the right. She holds a wreath in her upraised hands, apparently about to place it upon a trophy of arms comprising a helmet, cuirass with leather straps and skirt, and a star-adorned shield. All the arms are hung upon a large tree trunk, from the lower part of which springs a leafy branch. The inscription reads "Seleucus" and "Basileus" (king).

The imagery of this coin illustrates the ways in which Seleucus, the founder of Seleucid Empire, sought to legitimize his new status as king. The leopard skin on his helmet and around his neck alludes to the god Dionysus, who, according to Greek myth, conquered India. Thus in evoking Dionysus, Seleucus puts his empire on par with that of Alexander the Great and implies a divine status for himself. Indeed, the horns on his helmet are part of a long Near Eastern tradition of representing gods.

This coin was excavated at Pasargadae, about 55 miles northeast of Shiraz, Iran. Pasargadae was founded by Cyrus the Great (reigned ca. 550-530 B.C.) as the first capital of the Achaemenid Persian Empire. This coin is one of several objects from the site showing that it continued to be inhabited after the empire's final defeat in 330 B.C. It was most likely struck at the Seleucid mint at Susa.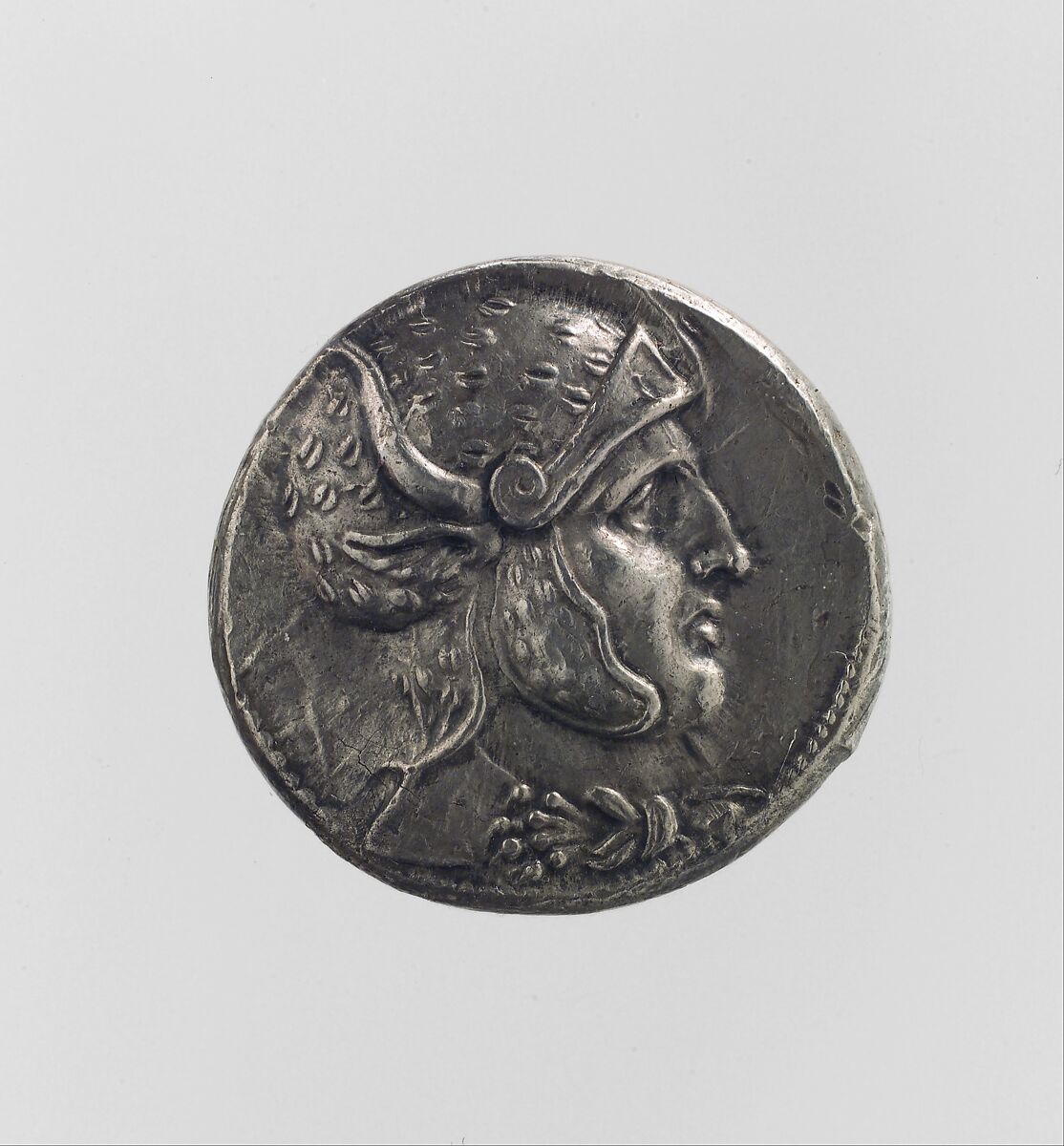 This artwork is meant to be viewed from right to left. Scroll left to view more.