The Genius of Castiglione
Giovanni Benedetto Castiglione (Il Grechetto) Italian
Publisher Giovanni Giacomo De Rossi Italian
Dedicatee Matthys van de Merwede, Lord of Clootwyck Dutch

Not on view
Castiglione made some sixty etchings, all characterized by lively handling and highly personal content. He was influenced by Anthony van Dyck, in whose studio he worked in Genoa, and later by the etchings of Rembrandt, just a few years his senior, working in Amsterdam. Castiglione made this print in Genoa and took the plate with him to Rome in 1647 where it was published a year later and dedicated to Matthys van de Merwede, lord of Clootwyck, a Dutch nobleman and patron of the arts who lived in Italy from 1647 to 1650.

The inscription in Latin on the book held by the young man reads in translation 'The genius of Giovanni Benedetto Castiglione of Genoa [who] invented and made [this]'. The figure in the print is not a self portrait and the word 'genius' should, in this context, be understood in the ancient sense of a 'guiding spirit'. The seated young man in the print is not a self portrait. Holding a trumpet and a book he represents Fame, an identification that is reinforced by the putto holding a trumpet and pointing to a laurel wreath. The rabbit and the basket with birds symbolize fruitfulness whereas the palette, brushes, and music sheet refer to the arts. Their placement on the ground and the crumpled state of the music sheet present a pessimistic note, suggesting the futility of human accomplishment.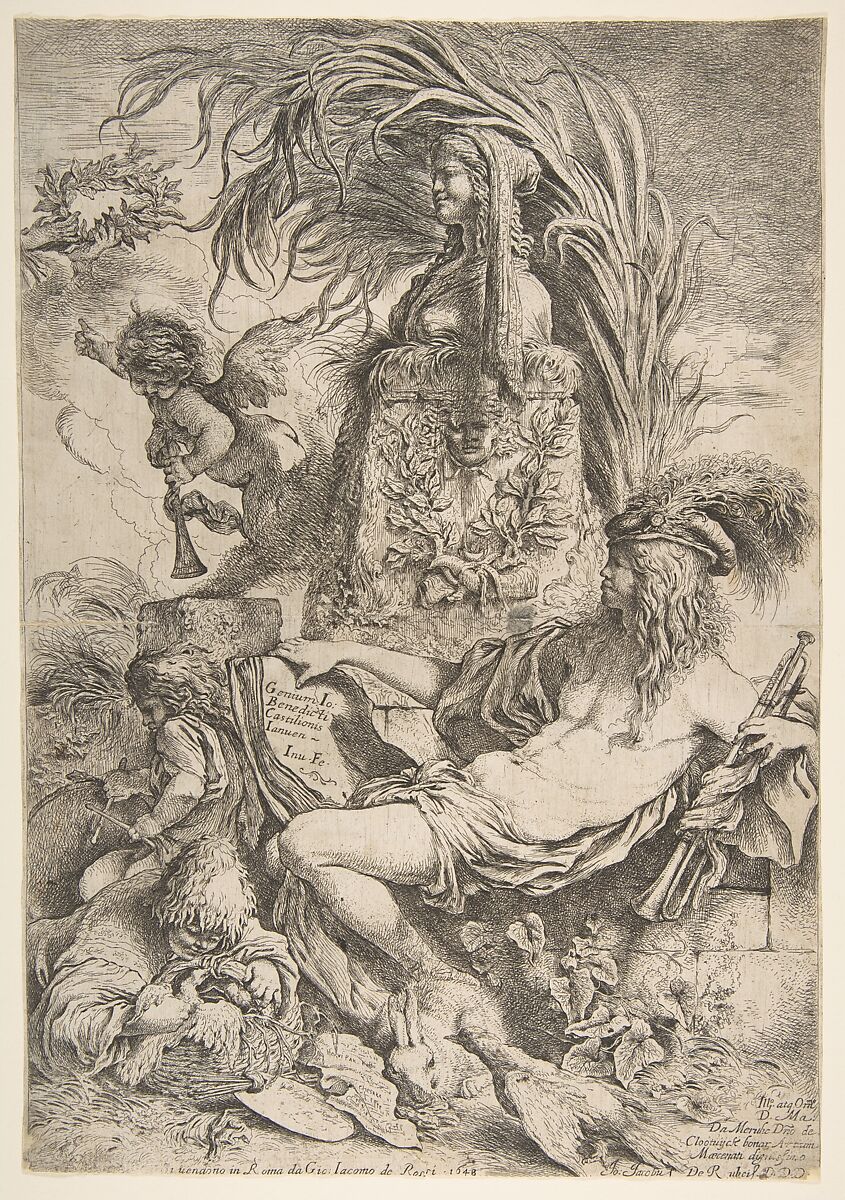 This artwork is meant to be viewed from right to left. Scroll left to view more.