The Witches
Hans Baldung (called Hans Baldung Grien) German

Not on view
A masterpiece of German chiaroscuro, this woodcut is one of Hans Baldung Grien's best known prints, produced soon after his move to Strasbourg from Nuremberg, where he had worked as a journeyman with Albrecht Dürer from about 1503 to 1507. Although Baldung was not the inventor of the chiaroscuro woodcut—the credit for this must go to Hans Burgkmair—he was among the very earliest and most effective practitioners of the medium.
The tone block for this woodcut is sometimes printed in an orange-brown, casting a hellish glow onto the scene; here the use of a gray tone block creates an atmosphere of nocturnal gloom from which the three witches emerge, gathered around the steaming cauldron of "flying unguent." The flickering highlights, where the white of the paper is exposed, give three-dimensional presence to forms that would otherwise be engulfed by the dark setting and, by continuing the modeling of the dark hatching strokes, powerfully define the volumes of the monumental nudes, the blasted tree, and the solid coils of steam that support the witches as they ascend in the night air.
The interest in witchcraft in the German-speaking countries was especially strong at the beginning of the sixteenth century, heralded by the publication in 1487 of the Malleus Maleficarum (The Witches' Hammer) by Heinrich Kramer and Jacob Sprenger, which was reprinted fourteen times before 1520.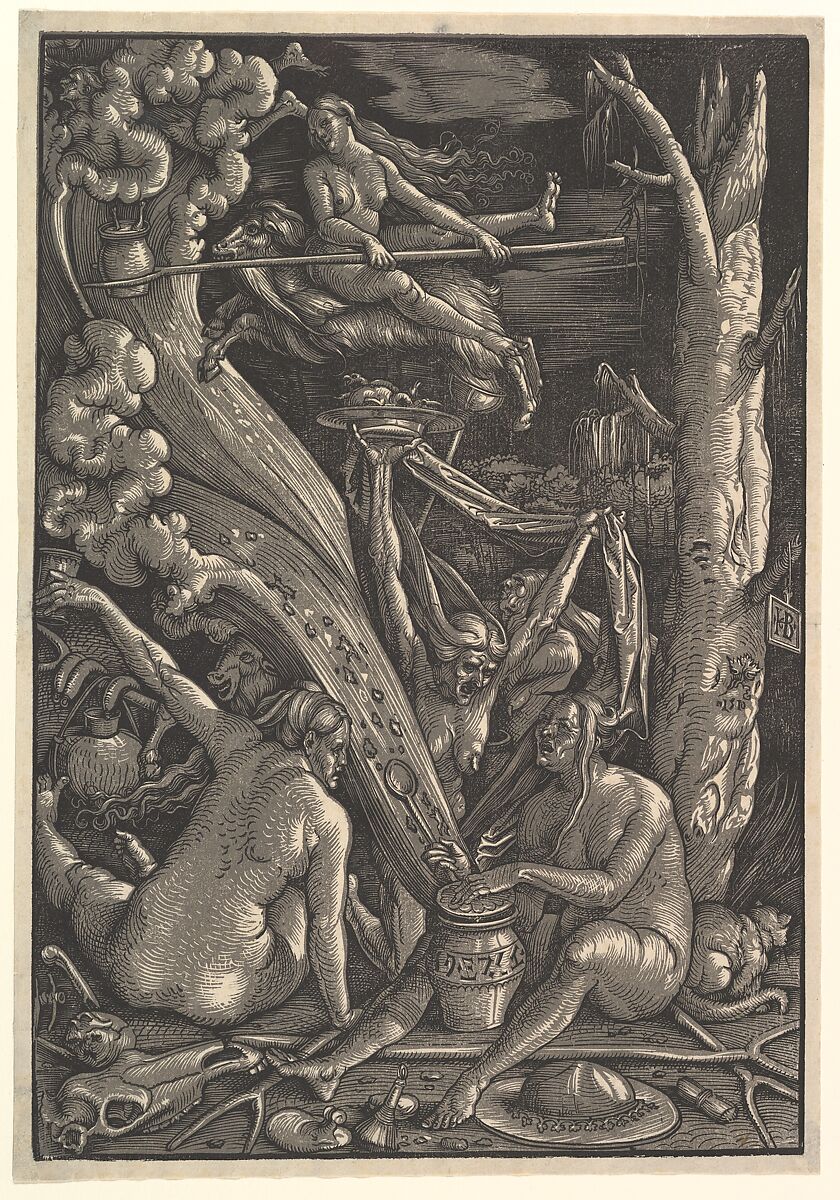 This artwork is meant to be viewed from right to left. Scroll left to view more.