Studies for a Scourging Soldier and the Head of Christ
Jacopo Bassano (Jacopo da Ponte) Italian

Not on view
The most innovative Venetian draftsman of the later sixteenth century, Jacopo Bassano was famous for his pastel technique, beautifully exemplified by this drawing executed in black, brown, red, orange-pink and white chalk. It was made in preparation for Bassano's painting of the 'Flagellation of Christ' (Gallerie dell'Accademia, Venice), dated around 1565. The half-dressed man, his face contorting into a brutal grimace, is shown committing the violent act of scourging. More summarily sketched is the head of Christ, facing right.

From the 1570's onward, Bassano's work would avidly be sought by Venetian collectors, and he was the leader of a great and prolific workshop employing his family. Yet the extant corpus of pastel drawings by Jacopo that is securely autograph is relatively small.Bassano's pastel drawing technique is most distinctive for its daringly direct, painterly application, not unlike the way he worked with the brush on canvas. This drawing is fully characteristic of Jacopo's mature style. He first outlined the general forms of the two figures with long, jagged strokes of black pastel, with varied inflections of tone, then working in the colors. he often pressed hard on the paper to create accents of highly saturated hue.

Possibly pioneered in Italy by Leonardo around 1500, pastel drawing did not become a mainstream medium for Italian artists until the 1530's and early 1540's. Jacopo Bassano more or less emerged then as a consistent practitioner, and later, along with Federico Barocci, would be regarded as the undisputed master of the technique. Bassano envisioned this composition based on the Passion narrated by all four gospels, more or less as a genre scene that combines the traditional icongraphy of the Mocking of Christ and His Flagellation. The man scourging Christ is therefore dressed inthe humble Venetian garb of the time in both drawing and painting. Bassano's bust-length portrayal of the suffering Christ pays homage to Titian's representations of the Ecce Homo (Christ as the Man of Sorrows). Jacopo Bassano and his workshop were famous for the inventive fusion of genre elements in their religious paintings, whether these were small-scale collectors' pieces or monumental altarpieces. This aspect of Jacopo's taste reaches an unexpected grandeur of expression in this drawing.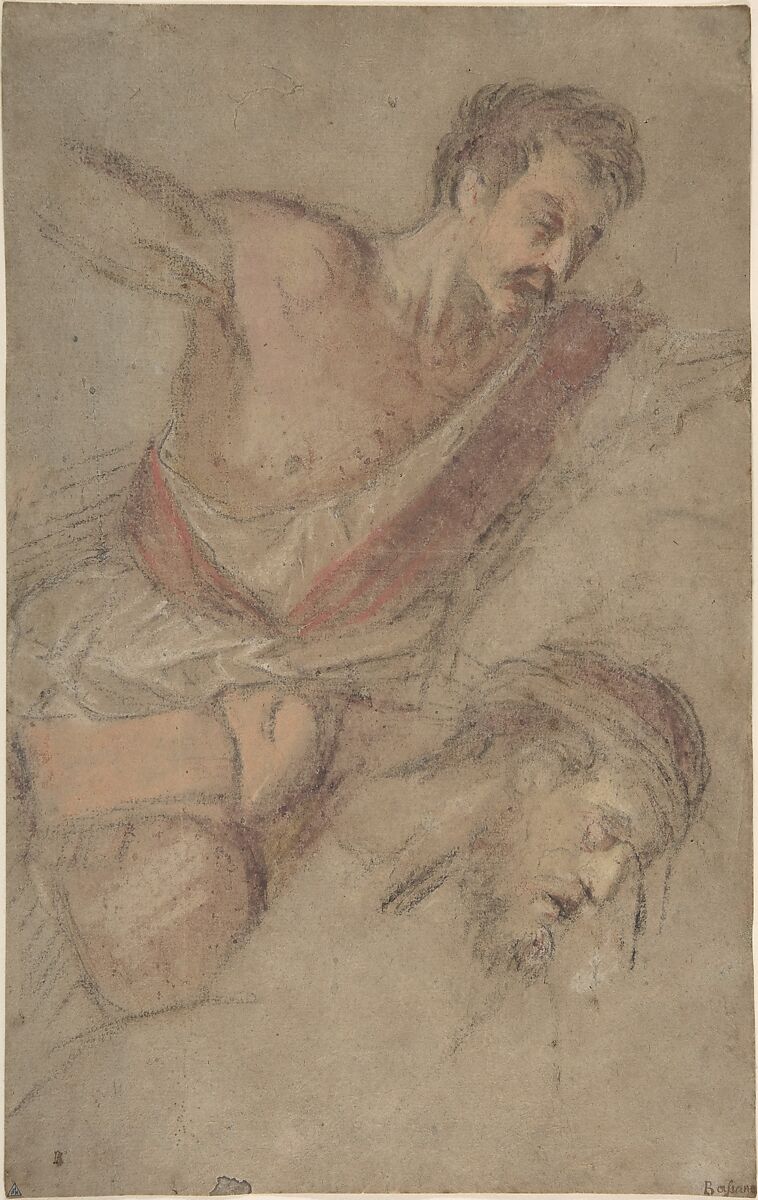 This artwork is meant to be viewed from right to left. Scroll left to view more.