Anatomical Studies: a left forearm in two positions and a right forearm
Peter Paul Rubens Flemish

Not on view
This impressive sheet demonstrates Rubens' understanding of the human body and his commitment to rigorous anatomical study of the sort pioneered in the Italian Renaissance. The same powerful left arm and hand appears in two positions; each view exposes in detail the structure of the underlying muscles, bones, and blood vessels. A right arm and hand is partly concealed beneath one bulky arm, and views of the left shoulder seen from above are drawn in different degrees of finish.
Rubens (1577–1640), one of the definitive masters of Baroque painting, had a humanist education and a deep admiration for the accomplishments of Michelangelo and other Italian artists. Like them, he used his command of anatomy to design figures in dramatic poses seen from unusual angles. Evidence suggests that Rubens planned a book of anatomical lessons with illustrations engraved after his designs. Although the project was never completed, this drawing may have been made for it, and several other sheets have been associated with it.
In order to impart a sense of energy and immediacy to his paintings, Rubens sought to master the representation of the human figure in all its actions. To achieve this end, he drew anatomy studies in the tradition of Italian Renaissance artists while in Italy between 1600 and 1608. In these drawings, Rubens used cross-hatching in pen to define the muscles and sinews of the flayed body parts that he studied from casts, a technique Leonardo also used for his own anatomy drawings, which Rubens knew. Unlike Leonardo, however, Rubens was interested in more than anatomical accuracy and clear presentation. He also created dynamic compositions, as is so masterfully demonstrated in this drawing, by studying the contorted arms from unusual angles, by inventing details, and by placing the models in a highly complex spatial relationship.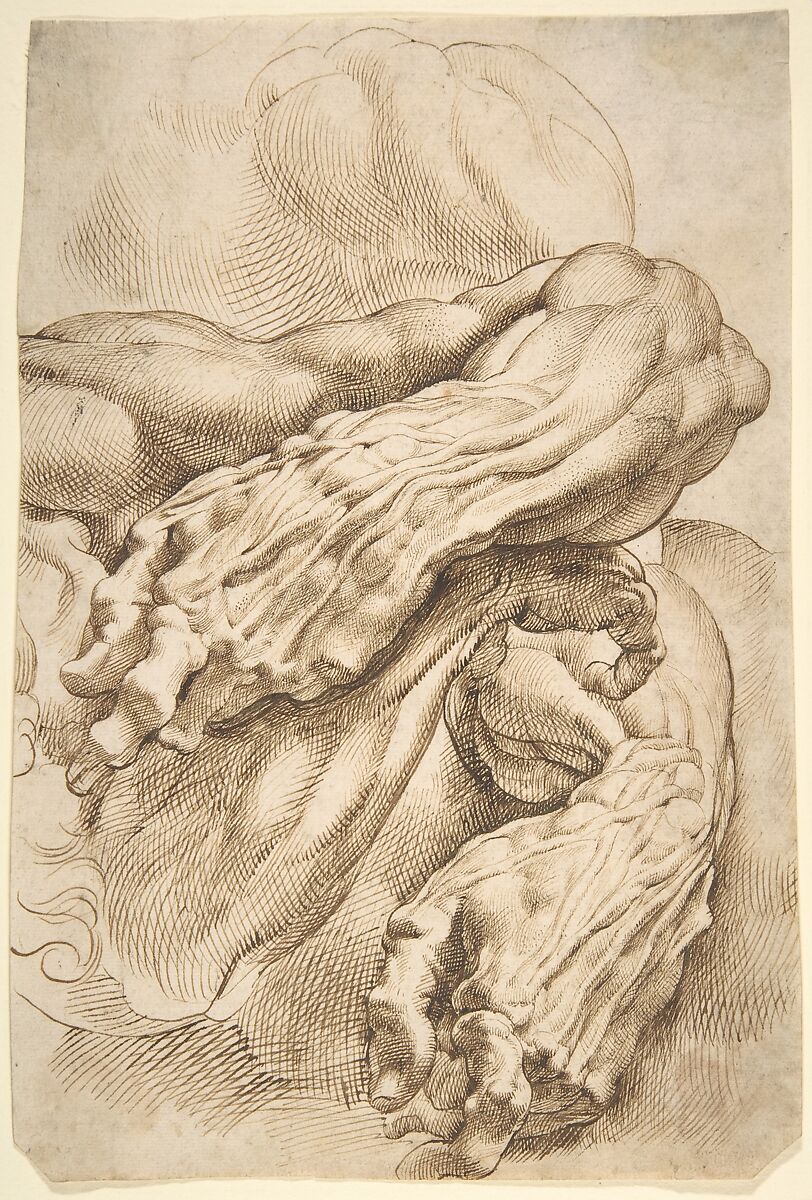 This artwork is meant to be viewed from right to left. Scroll left to view more.