Allegory of America
Jan van der Straet, called Stradanus Netherlandish

Not on view
This drawing is preparatory for the first engraved plate in the series Nova Reperta, or New Inventions of Modern Times. The series was designed by the Medici court artist Johannes Stradanus (Giovanni Stradano), and is dedicated to the Florentine statesman, poet and scholar, Luigi Alamanni, with whom he often collaborated. Stradanus also created allegorical paintings, ephemera and cartography as Medici propaganda. Even though the Medici were not involved in the colonization of the Americas, and they themselves were subsumed under the sovereignty of Spain, Grand Duke Ferdinando sought to strengthen cultural and economic ties with the New World during his reign (1587-1609).


The drawing shows the Florentine explorer Amerigo Vespucci encountering the Americas. Here, Vespucci carries a staff with a crucifix at its pinnacle and a banner of the Southern Cross. He also holds a brass mariner's astrolabe, which helped him navigate the seas to find new lands to explore and people to exploit on behalf of Spain and Portugal. Vespucci undertook several expeditions to South and Central America between 1497 and 1504, spurred by Christopher Columbus's earlier journey. In this drawing, Vespucci is shown naming the allegorical figure America, a feminized version of his own name.


The representation of the Four Continents—America, Africa, Asia and Europe—as female allegorical figures with their so-called attributes has a long history in texts and images. The tradition was standardized in the Iconologia by Cesare Ripa (1593; illustrated in 1603) and supplemented by contemporary travel accounts. Since such allegories were almost exclusively the work of white male European artists, they represent a biased point of view and promote a Christian Eurocentric sense of self that epitomizes formative habits of racial and gender stereotyping.



Stradanus presents America as a young woman gesturing towards Vespucci from her hammock. She wears only a feathered headdress and skirt, her club abandoned against the tree at the right, where an anteater is shown feasting. Set behind her in the rolling landscape is a horse and a bear and a scene of cannibalism. Stradanus also cleverly mixes a traditional allegorical image with ethnographic details. The hammock on which America sits, the feather-work, and her club were items that Stradanus would have known from the Medici collections. Furthermore, on the verso of the drawing, an inscription by Stradanus explains that he used Pietro Maffei's recently published History of Indies (Historiarum Indicarum, 1588) as his source for the flora and fauna native to the Americas.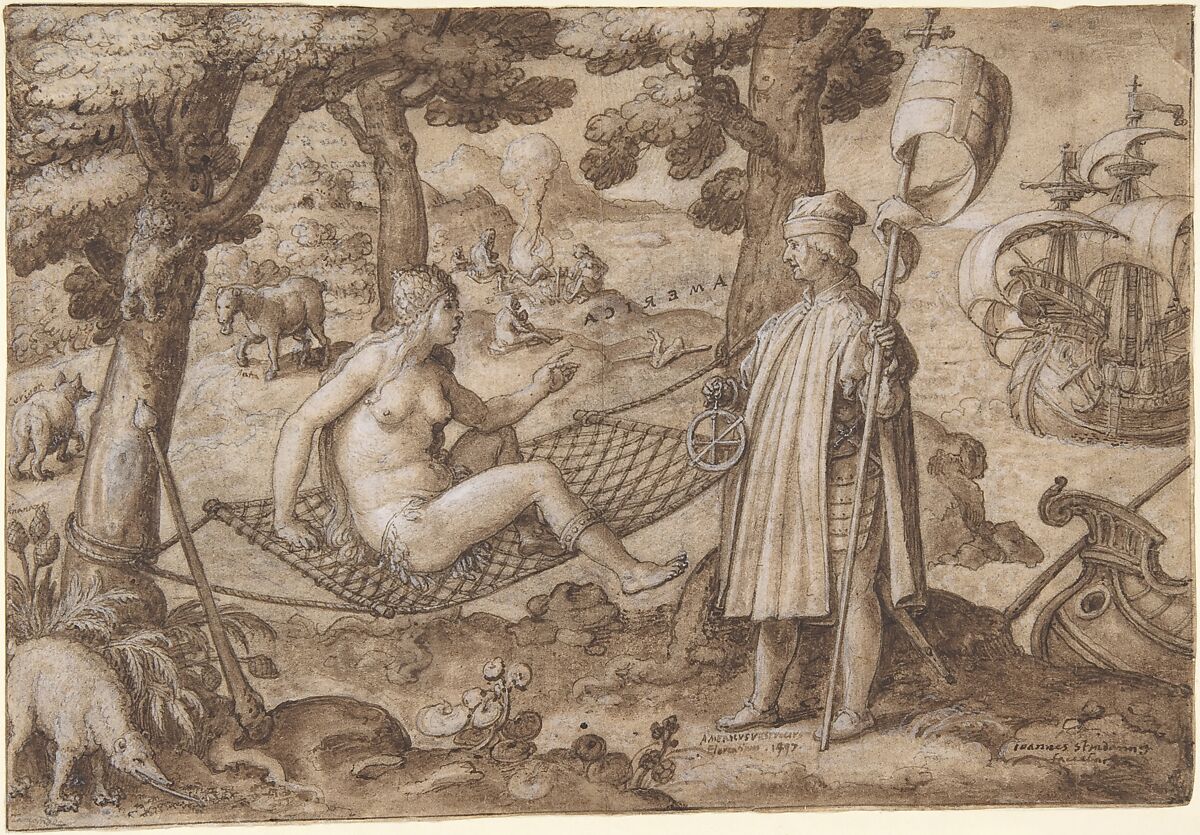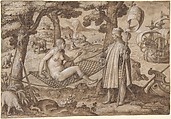 This artwork is meant to be viewed from right to left. Scroll left to view more.