Apulegio volgare, diuiso in undeci libri, novamente stampato & in molti lochi aggiontoui che nella prima impressione gli manchaua, & de molte più figure adornato
Not on view
Boiardo's popular translation of Apuleius' Metamorphoses (also known as 'The Golden Ass'), which originated in the Ferrarese court in the 1470s at the request of Ercole I d'Este, was only supplanted in 1549, when a new translation by Agnolo Firenzuola appeared.
The late classical work of Apuleius tells of the misadventures of a young man who, attempting to use magic in order to fly, is accidentally transformed into an ass. In this illustration, poor Lucius is punished for having escaped from the robbers who stole him. The narrator (Lucius) tells us that he would have been beaten to death if not for the malodorous aftermath—suggested in cartoon fashion in this illustration—of the vegetable feast he had enjoyed during his brief period of freedom.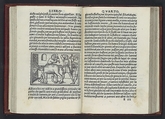 This artwork is meant to be viewed from right to left. Scroll left to view more.