Armor for Man and Horse
Armorer Kunz Lochner German

On view at The Met Fifth Avenue in Gallery 371
Kunz Lochner was one of the few Nuremberg armorers of the mid-sixteenth century to achieve an international reputation. His patrons included the Holy Roman Emperor, the dukes of Saxony, and the king of Poland. This man's armor bears the mark of Nuremberg; Lochner's personal mark, a rampant lion; and the date 1548. The armor was originally part of a small garniture that included exchange elements for field and tournament use. Restorations include the cuirass and the gauntlets.
The horse armor bears only the Nuremberg mark but can be attributed to Lochner on stylistic grounds. The elaborately embossed and etched decoration of the peytral (chest defense) includes an abbreviated inscription that may be interpreted: 1548 K[rist] I[ch] T[rau] G[anz] V[nd] G[ar] H[ans] E[rnst] H[erzog] Z[u] Sachsen (1548 In Christ I trust wholly, Hans [Johann] Ernst, Duke of Saxony). Duke Johann Ernst (1521–1553) may have commissioned the horse armor for his attendance at the Diet of Augsburg, a political assembly of the German nobility called in 1548 by Charles V to deal with the crisis of the Reformation.
#4406. Armor for Man and Horse, Part 1
Playlist

4406. Armor for Man and Horse, Part 1

4421. Armor for Man and Horse, Part 2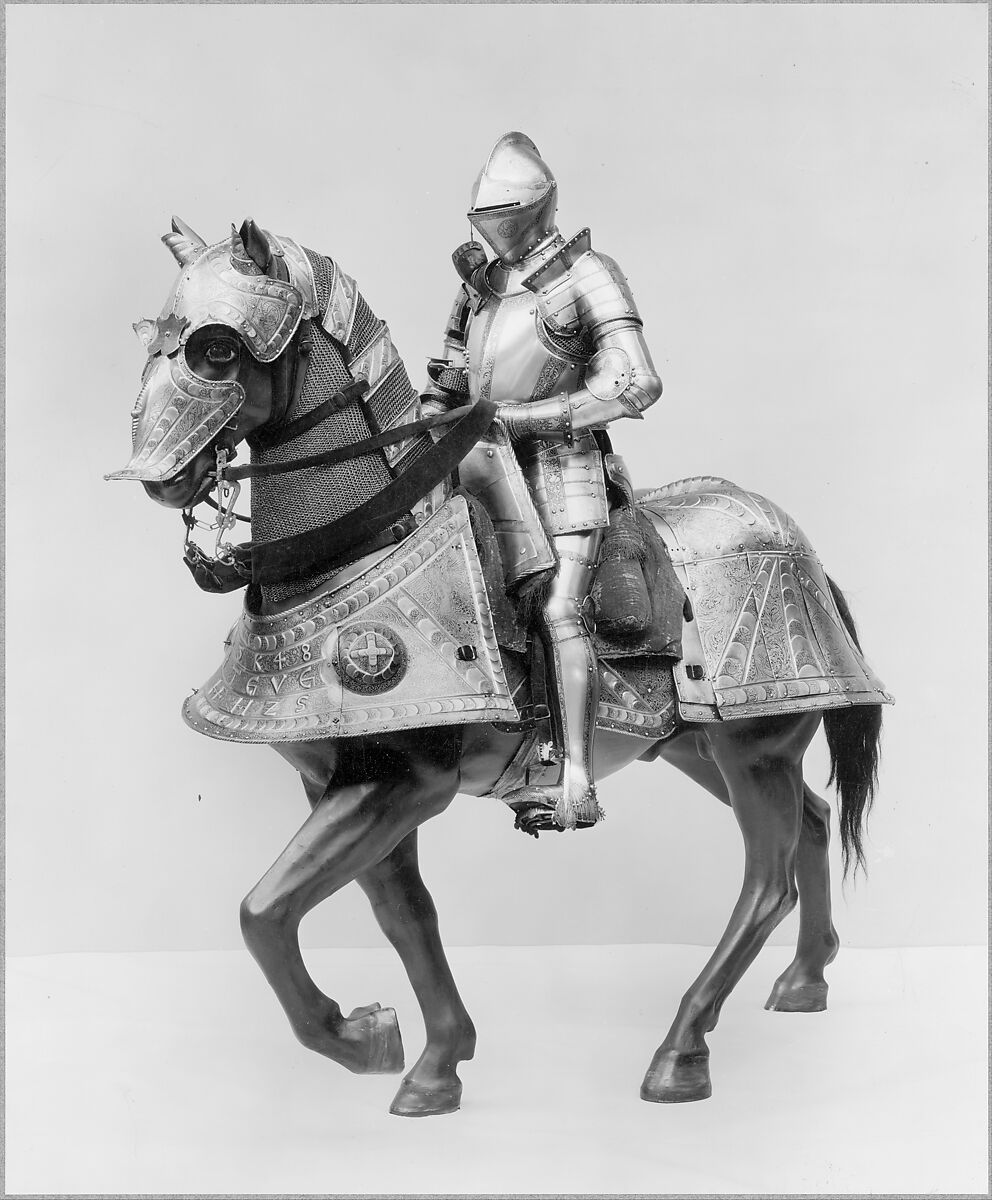 This artwork is meant to be viewed from right to left. Scroll left to view more.