Great Wisdom Sutra from the Chū sonji Temple Sutra Collection (Chūsonjikyō)
Not on view
The frontispiece to this sutra chapter shows a dramatic three-quarters view of the Buddha seated with two bodhisattvas. Seven figures pay obeisance to the Buddha, with the six in front raising offerings of food. The silver used to articulate sections of the ground, the ribbons that hang from the tree behind and the altar before the Buddha, and the offering bowls raised before him provides a subtle, pleasing contrast to the gold used elsewhere in the composition.

This chapter from the Great Wisdom Sutra (Daihannyakyō; Sanskrit: Mahaprajnaparamita) is one of more than five thousand scrolls of Buddhist scripture that were dedicated in 1176 to the temple Chūsonji in northern Japan by the nobleman Fujiwara Hidehira (died 1187) for the salvation of his father, Motohira (died 1157). Throughout the sutra, absolute truth is equated to emptiness, and wisdom is praised as the best means of attaining enlightenment.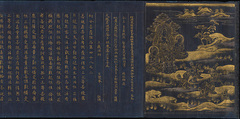 This artwork is meant to be viewed from right to left. Scroll left to view more.