Annibale Carracci Introduces Painting to Apollo and Minerva
Pietro Aquila Italian
After Carlo Maratti Italian
Publisher Giovanni Giacomo De Rossi Italian

Not on view
This print appeared as a frontispiece to a book of etchings depicting the frescoes painted by Annibale Carracci in the Farnese Gallery in Rome. Like the publication of the book itself, this frontispiece was part of a concerted effort to raise the painter, active at the turn of the seventeenth century, to mythical status. Here we see Annibale accompanied by Genius bringing Painting out of a dark cave (symbolic of the obscurity and darkness into which painting was said to have fallen in the late sixteenth century) into that exalted and luminous realm where she could be welcomed by Apollo and Minerva. The idea is very much like that of Pietro Testa's etching, 'The Triumph of Painting on Parnassus', in which Painting is welcomed on Parnassus, and Maratti's design may also have received inspiration from Testa's later and more personal interpretation of the theme, in which the artist is accompanied, as here, by a figure with a flaming torch. The river god nearest Annibale signifies the city of Rome, where Annibale's Farnese Gallery gave the greatest proof of his genius. The other river god stands for Bologna, where Annibale was born and, together with his brother and cousin, founded an influential academy of art.

Giovanni Pietro Bellori, the antiquarian and art critic who had organized the publication with de' Rossi and written the accompanying text, had recently published a series of artists' lives that also sought to promote Annibale as the ideal painter whose revival of the tradition of Raphael should be a model for all artists. Carlo Maratti, the successful painter and leader of the Roman Academy who designed this allegory, had been trained in the Carracci tradition, and wished to uphold that tradition in the face of other artistic trends prominent in Rome. The highly skilled Sicilian printmaker Pietro Aquila was a friend of Maratti and frequently collaborated with Bellori.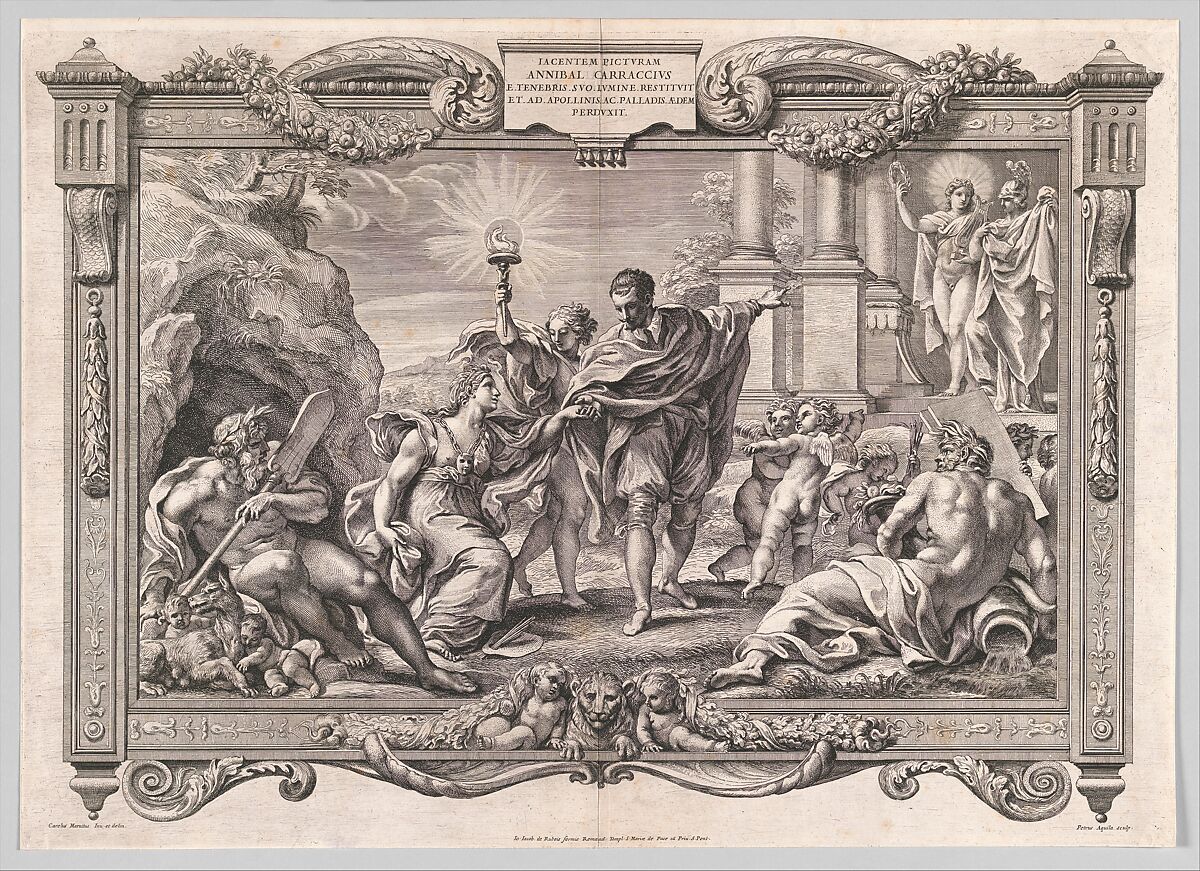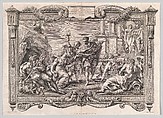 This artwork is meant to be viewed from right to left. Scroll left to view more.