Christ Appearing to Saint Mary Magdalen ("Noli Me Tangere")
Attributed to Jacopo Bassano (Jacopo da Ponte) Italian

Not on view
In this expressively pictorial composition of the "Noli me tangere" (John 20:14-18), done quickly with the brush and brown wash with white gouache highlights, the resurrected Christ, in the guise of a gardener, stands at left before the kneeling Saint Mary Magdalen on the right, who is seen from behind. The present sheet, acquired in 2008, marks a new addition to Jacopo Bassano's oeuvre, who is best known for his innovative pastel drawings.

Around 1561, Jacopo Bassano's manner of painting radically changed to embrace what scholars have called a "style of light": This new period of work coincided with Bassano's experimentation with a light-handed brush with wash drawing technique, often highlighted with whites. The present drawing exemplifies this new brush style: no use of fine contours or of the pen is made, and if any outlines are suggested, they flutter with pictorial light and movement. In terms of drawing technique, a precise comparison is the composition study for the altarpiece of Sant'Eleuterio (Montpellier, Musée Fabre inv. 837.I. 281), of 1565. At least three other drawings of similar technique and date are also in the Uffizi, Florence.

Bassano seems to have painted a few "Noli me tangere" compositions: a damaged painting at the Parish Church of Santa Maria Maddalena at Oriago (near Venice), of 1543-44, and an altarpiece in the Parish Church of San Biagio at Onara di Tombolo (Padua) of 1546. While the present drawing is stylistically from about twenty years later, the composition of the Onara di Tombolo altarpiece is surprisingly similar, down to the Christ holding his pick axe over the shoulder; the placement of the Magdalen is also the same. The figural anatomy though is that of Bassano's earlier period.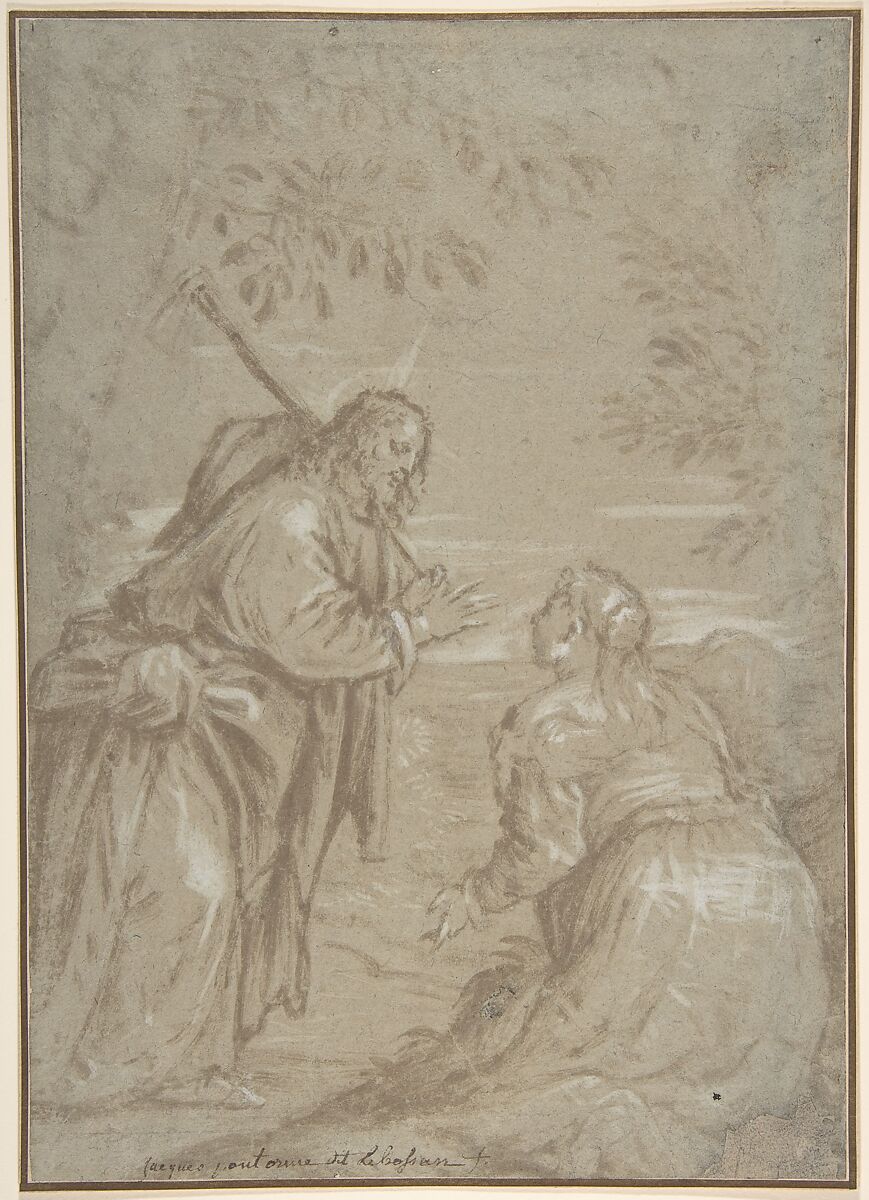 This artwork is meant to be viewed from right to left. Scroll left to view more.