Procession of Sultan Süleyman through the Atmeidan from the frieze Ces Moeurs et fachons de faire de Turcz (Customs and Fashions of the Turks)
After Pieter Coecke van Aelst Netherlandish
Publisher Mayken Verhulst Netherlandish

Not on view
Before the panorama of the city of Constantinople, a lengthy procession is depicted winding its way toward the minareted Fatih ("Conqueror") Mosque on the left horizon. It houses the tomb of Sultan Mehmed II, the Ottoman conqueror of Constantinople. Most significant among the riders who file past the Hippodrome is Sultan Süleyman the Magnificent (ca. 1494–1566), shown in strict profile on the right. This image is part of an extensive frieze composed of seven scenes and measuring about fifteen feet in length created by the Flemish artist Pieter van Aelst, the Younger. The naturalistic rendering of the customs and scenes of foreign people before an expansive city view was unprecedented in Netherlandish art at the time. It has served scholars as valuable testimony to the appearance not only of Ottoman architecture but also of the major monuments of Constantine's city following its fall in 1453. The buildings around the Hippodrome have been condensed and slightly rearranged to fit the image, but many are identifiable. Among the monuments of Byzantium is the Church of Hagia Sophia on the right horizon; it is visible just to the left of the Egyptian obelisk erected in the Hippodrome by Theodosius (r. 379–95). The column with the twisted serpents erected by Constantine (r. 306–37) is on the right just behind the sultan. The large tower to the left of Hagia Sophia may be the Galata Tower constructed by the Genoese.
Van Aelst traveled to Constantinople in 1533; he appears to have been part of an expedition sent by the Brussels-based Dermoyen firm to negotiate a sale of tapestries to the sultan. The firm may have been hoping that Süleyman, wanting to rival Western monarchs, would commission a set of tapestries glorifying his reign, possibly based on the designs rendered in this frieze. The tapestry commission appears never to have materialized. Van Aelst's widow published the woodcut frieze twenty years after her husband executed the designs created during or soon after his journey to Constantinople.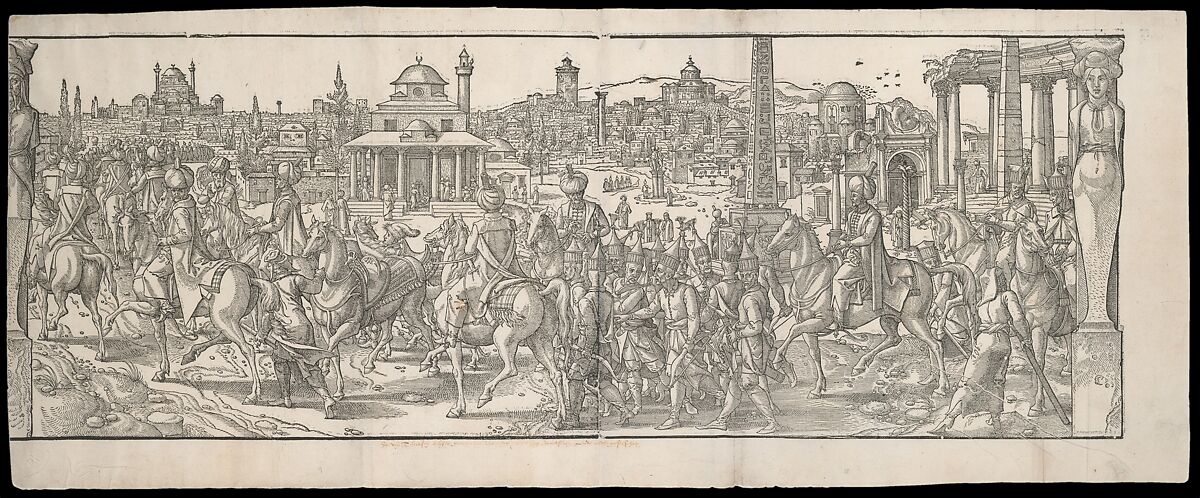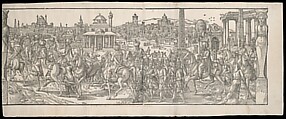 This artwork is meant to be viewed from right to left. Scroll left to view more.