Preparatory Study for a Portrait of Man Singh and His Harem
Not on view
Rajput rulers generally married women from other royal families in order to forge political alliances. A powerful raja was, in turn, a sought-after husband, and there was no limit to the number of women he could marry. Man Singh's large female following shown in this sketch is certainly as much an expression of his practical power as it is a romantic conceit, flattering the prince by emphasizing his sexual appeal.

The drawing appears to have been sketched quickly and conveys something of the breathless enjoyment of the romp in the spontaneity of its conception. The artist has marked each form in the composition with the color he would like his assistant to apply. The paper has been pricked to allow the image to be transferred to another sheet, presumably to make a finished painting of the subject.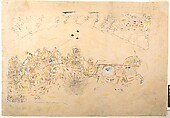 This artwork is meant to be viewed from right to left. Scroll left to view more.