Bodhisattva Guanyin in the Form of the Buddha Mother
Chen Hongshou Chinese

On view at The Met Fifth Avenue in Gallery 210
In Esoteric Buddhism, the Buddha is understood as having been born of the Law, which is regarded, therefore, as the Buddha Mother. This image depicts the Esoteric manifestation of Guanyin (Avalokiteshvara, in Sanskrit) as the Buddha Mother, a deity with multiple arms and a third "all-seeing" eye. In Chen Hongshou's interpretation, however, the Buddha Mother does not appear as a formidable incarnation of scripture but as a winsome young woman. Her unruly hairdo and the unconventional gesture of clutching strands of hair in her mouth may derive from heroines of contemporary popular theater rather than Buddhist iconography.

This large-scale example of Chen Hongshou's early figure style is a rare complement to the small-scale figures in his early album paintings and woodblock prints. At this enlarged scale, Chen Hongshou's technique and idiosyncratic stylistic sources become readily apparent. His relaxed and fluid drapery lines do not follow the disciplined brush mannerisms of literati models but instead are derived from popular paintings and woodblock prints.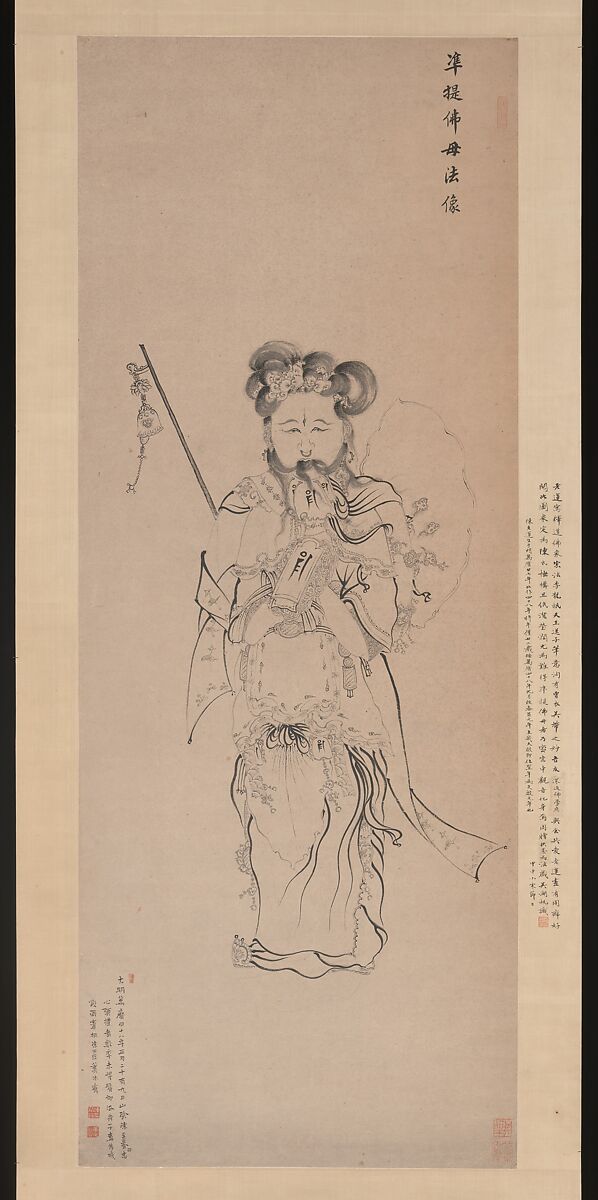 This artwork is meant to be viewed from right to left. Scroll left to view more.