Returned to lender The Met accepts temporary loans of art both for short-term exhibitions and for long-term display in its galleries.
Vajradhatu (Diamond Realm) Mandala
Not on view
The Buddha Vairochana sits at the center of this mandalic diagram of the heavens, framed by the four directional cosmic Buddhas, each with its own distinctive color. The most important of these heavens is the western pure land, at the top, where Amitabha presides and where pious devotees hope to be reborn. The square section takes the form of a multi-tiered palace, inhabited by one thousand bodhisattvas, that encloses the five Buddhas set within circles. Gateways in the form of pronged vajras (lightning bolts) stand at the four directions and, as they cross under the image of Vairochana, mark a point of perfect stability at the center. Along the top register are Buddhist deities, Mahasiddhas (enlightened tantric practitioners), and monastic patriarchs, and along the base is a row of powerful protectors and auspicious gods. At the bottom left, a monk sits before an altar, eternally consecrating the mandala.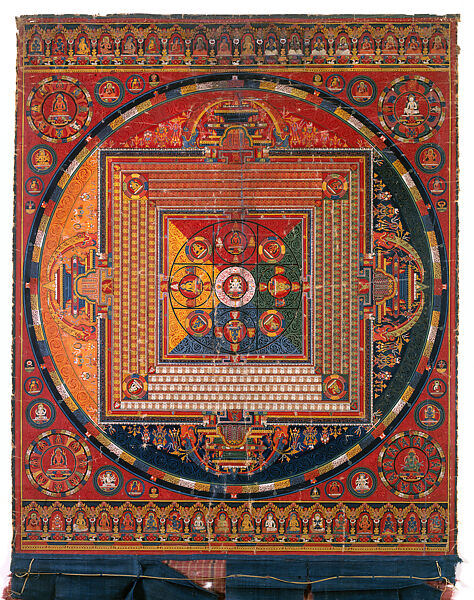 This artwork is meant to be viewed from right to left. Scroll left to view more.