On loan to The Met The Met accepts temporary loans of art both for short-term exhibitions and for long-term display in its galleries.
Apse from San Martín at Fuentidueña
On view at The Met Cloisters in Gallery 02
Surrounded by mighty stone walls and guarded by a castle, the fortified town of Fuentidueña was established around the eleventh century in the Duero River valley, a contested frontier region between the Christian- and Muslim-ruled territories of the Iberian Peninsula. In the late twelfth century, after the definitive conquest of this region by Christian forces, Fuentidueña's residents built the church of San Martín adjacent to a massive gate regulating visitors' entrance into town. Featuring smoothly cut stone blocks and architectural sculptures, the apse of the church was built and decorated in the Romanesque style used throughout Christian-ruled Iberia, as well as most of western Europe, at this time. By embracing the prevailing style of western Christendom, the church's builders conveyed Fuentidueña's religious, political, and military allegiances to all who passed through the gate. Obtained as a long-term loan from Spain in 1957, the apse of San Martín de Fuentidueña was dismantled and reconstructed at The Cloisters to create this chapel-like gallery, which first opened to the public in 1961.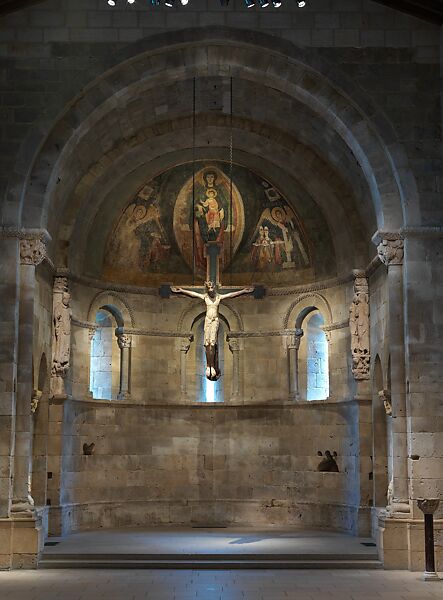 This artwork is meant to be viewed from right to left. Scroll left to view more.