Pilgrim's Badge of the Shrine of St. Thomas Becket at Canterbury
On view at The Met Fifth Avenue in Gallery 304
The brutal murder of Archbishop Thomas Becket in Canterbury Cathedral on December 29, 1170, transformed him into one of the most venerated saints in Western Christendom, and his shrine instantly became a pilgrimage site. This impressed badge shows the shrine of the martyred saint before it was plundered by Henry VIII's commissioners in 1538. The golden structure, as seen on the badge was ordered by Archbishop Stephen Langton and dedicated on July 7, 1220. Created by the famed goldsmith Walter of Colchester, the tomb, supported on four bays, contained an effigy of Thomas Becket in ecclesiastical vestments. Here, raised above it, is the gabled shrine, encrusted with jewels on a trellis-like ground and surmounted by two ship models, one of which was damaged. A small figure points to a ruby, claimed to be the largest in existence and given in 1179 by the king of France. To the right another figure raises the cover of the shrine with ropes and a pulley. This badge is one of the best surviving visual documents of the shrine. Its accuracy is attested to by descriptions from ambassadors, clergy, and theologians, such as Erasmus. The badge is an important addition to our knowledge of the imagery surrounding this martyr-saint and joins our unrivaled collection of objects associated with him.
#3115. Pilgrim's Badge of the Shrine of St. Thomas Becket at Canterbury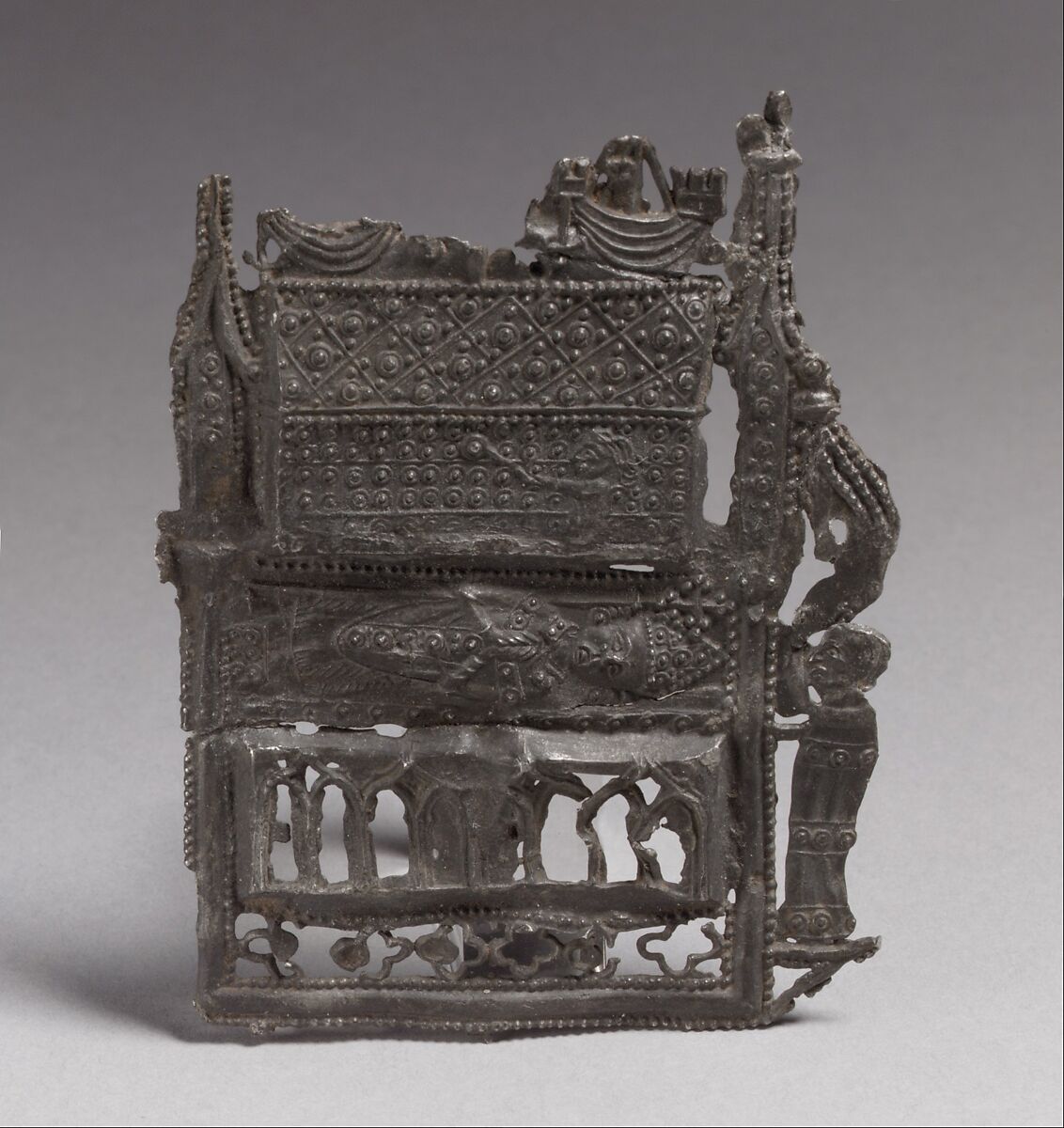 This artwork is meant to be viewed from right to left. Scroll left to view more.