Jaharis Byzantine Lectionary
On view at The Met Fifth Avenue in Gallery 303
Illuminated manuscripts written in Greek were considered one of the greatest art forms by the highly literate and sophisticated clerical and secular elite of Byzantium. Over the centuries many works were commissioned for use in important churches. The calendar in this lectionary and the quality of the entire work suggest that the manuscript was made for the great church of Hagia Sophia in Constantinople.

The Gospels were central to the liturgy of the Orthodox church. At the Little Entrance, which introduced the Liturgy of the Word, the deacon presented the Gospel to the faithful. In the middle Byzantine era, the lectionary replaced the Gospel book as the most widely used text by the church. In it Gospel texts were rearranged by the sequence in which they were read during the liturgical year, which begins at Easter in the Orthodox church. Often, as in this manuscript, the liturgical calendar and the lives of saints who were celebrated daily were included in the text. Highly trained scribes wrote the texts to which were added the elaborately colored initials for special readings and the illuminations that added great value to the work.


The Evangelist Matthew (fol. 43r)
The customary decoration for lectionaries included portraits of the Four Evangelists, beginning with John whose text is read at Easter. In this illumination, the white-haired, bearded evangelist Matthew sits before a city wall; his name is inscribed in Greek above. His pose echoes that of ancient philosophers as adopted for Christian use. God's hand descends from the arc of the blue heaven, directly inspiring the writer at his desk. The writing table includes all the implements needed by a scribe, including a scroll ready for the words of the text. The evangelist's face is subtly modulated; his garments and the cityscape behind are defined in pastel hues. The elegantly articulated border echoes the patterns widely seen in cloisonné enamel works of the period.

The incipit, or first letter, of the handsome script written in gold presents a small child raising his hands to a seated image of Christ. The scene reflects the first lines of the reading: "The Lord said: See that you never despise one of these little ones" (Matthew 18:10).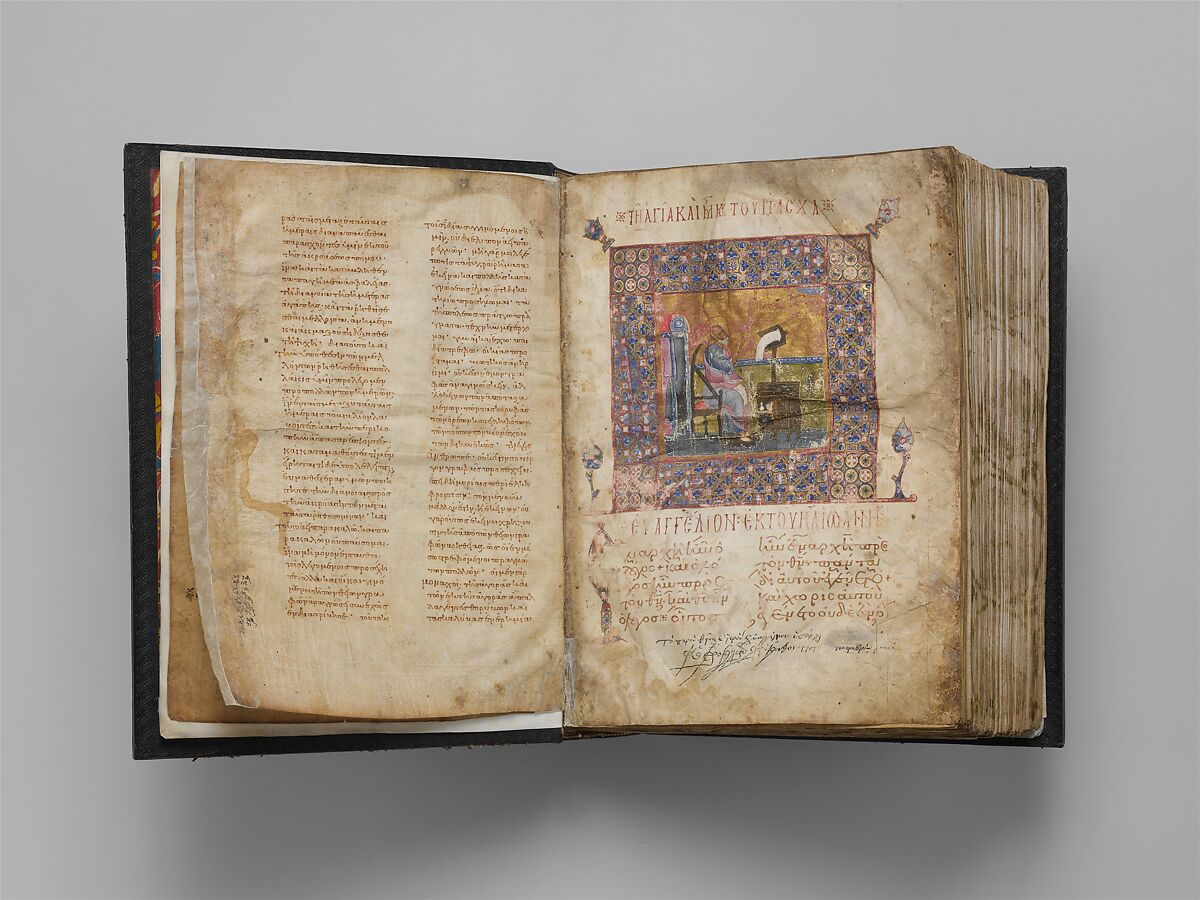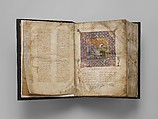 This artwork is meant to be viewed from right to left. Scroll left to view more.