Angel Applicant
Paul Klee German, born Switzerland

Not on view
It seems doubtful that this Angel Applicant, resembling the offspring of a bulldog and a Halloween mask, will ever reach heaven. In 1939, Klee composed twenty-nine works that feature angels, having in earlier years only sporadically depicted them. His angels were not the celestial kind but hybrid creatures beset with human foibles and whims. Klee's angels are "forgetful, "still female, "ugly," incomplete," or "poor"—as the titles he gave these pictures indicate.

Suffering from an incurable illness and sensing himself hovering between life and death, Klee possibly felt a kinship with these outsiders. In this work, he covered a sheet of newspaper with black gouache on which he then drew the outlines of the figure and of the crescent moon with a thick, soft graphite pencil. Then he filled in these forms with a thin white wash. It is the black ground peeking through the white pigment that gives this creature its ghostly shimmer.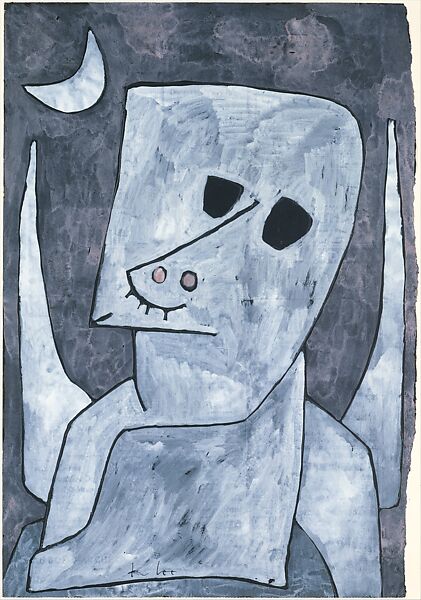 This artwork is meant to be viewed from right to left. Scroll left to view more.