The Qianlong Emperor's Southern Inspection Tour, Scroll Four: The Confluence of the Huai and Yellow Rivers (Qianlong nanxun, juan si: Huang Huai jiaoliu)
Xu Yang Chinese

Not on view
This oversize scroll is the fourth in a set of twelve commissioned by the Qianlong Emperor to document his first tour of southern China, made in 1751. The scroll portrays Qianlong inspecting flood-control measures along the Yellow River. He stands beside the spillway that directs the clear, blue waters of the Huai River into the silt-laden Yellow River, diluting its sediment content and helping to flush the silt out to sea. The remainder of the scroll depicts various flood-prevention techniques, including double-sluice gates to reduce the force and flow of water into the Grand Canal, pounded-earth and stone-faced levees, and large bundles of sorghum used for repairing breaches in the dikes.

Painted by Xu Yang, whom Qianlong recruited for his painting academy while visiting Suzhou on his first southern tour, the scroll's "Western-style" unified panorama and automatically precise, theatrically posed figures reveal the influence of Giuseppe Castiglione (1688–1766) and other Jesuit artists working at the Qing court.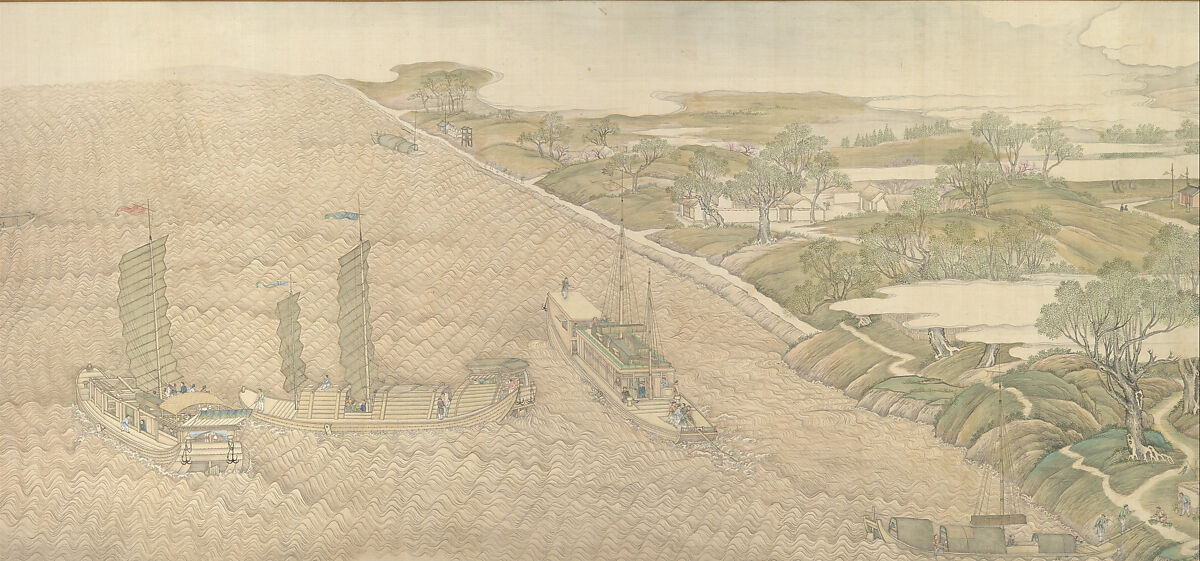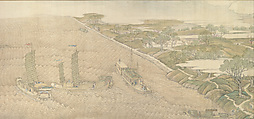 This artwork is meant to be viewed from right to left. Scroll left to view more.