Male Poro Figure (Pombia)
Not on view
This male figure was carved by a master sculptor in northern Côte d'Ivoire as part of an idealized pairing. Known as pombibele (sing.: pombia), or "children of poro," such imposing male and female figures were the major sculptural forms commissioned by the poro association in Senufo communities of Côte d'Ivoire, Mali, and Burkina Faso. During funerals and commemorative ceremonies for distinguished association members, male figures like this one stood with female companions evoking a primordial couple. Sculptural pairs honored the deceased as they entered the society of ancestral spirits and recalled their lineage extending back to their earliest ancestors. On these occasions, poro members displayed pombibele figures in architectural settings or tapped them on the ground to the rhythm of drums in a procession.

Although poro is essentially a male institution, the most important ancestor invoked is a woman, the head of the poro chapter's founding matrilineage. Senufo artists often rendered female representations taller than their male companions. Their asymmetrical treatment of poro sculptural couples emphasizes the importance of women as matrices of life.

The male figure in the Museum's collection may have belonged to a poro sanctuary in or near the town of Lataha. The Swiss field collector and art dealer Emil Storrer reported seeing it there before 1953 and collecting it in the nearby town of Korhogo in 1953. Its female companion, collected at the same time, is now housed at the Rietberg Museum in Zürich. The displacement of these and other Senufo works occurred as a result of local communities' rejection of them and certain practices in favor of Massa, a widespread iconoclastic movement.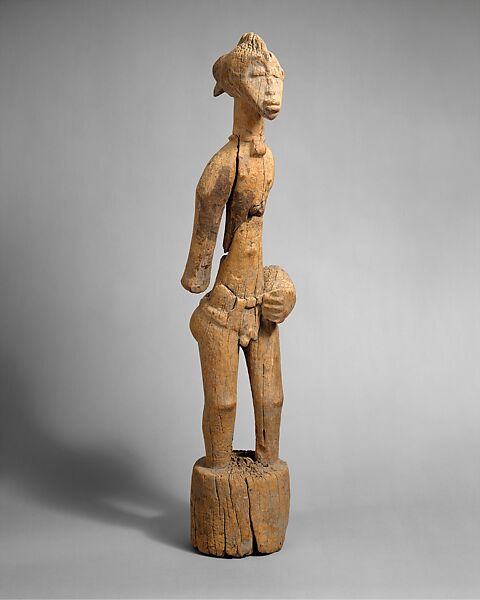 This artwork is meant to be viewed from right to left. Scroll left to view more.