Mask (Mukudj)
Not on view
When works from Equatorial Africa in this refined style began to enter Western consciousness in the early twentieth century, they were a great enigma to art critics. Many speculated about the sources of their exotic aesthetic and even proposed possible Asian influence, though the art form was in fact indigenous to southern Gabon. Such masks were worn by virtuosic male performers of a stilt dance called "mukudj," which involved towering impressively while executing complex choreography and astonishing feats of acrobatics.

The creator of a "mukudj" mask would attempt to capture the likeness of the most beautiful woman in his community. The subject of this particular idealized and stylized portrait was embellished in classic nineteenth-century fashion with a coiffure composed of a central lobe and two lateral tresses and with cicatrization motifs on the forehead and temples. Kaolin taken from riverbeds, which was associated with healing and with a spiritual, ancestral realm of existence, was applied to the surface of the face. By using this material, the artist both celebrated the beauty of a mortal woman and transformed her into a transcendent being.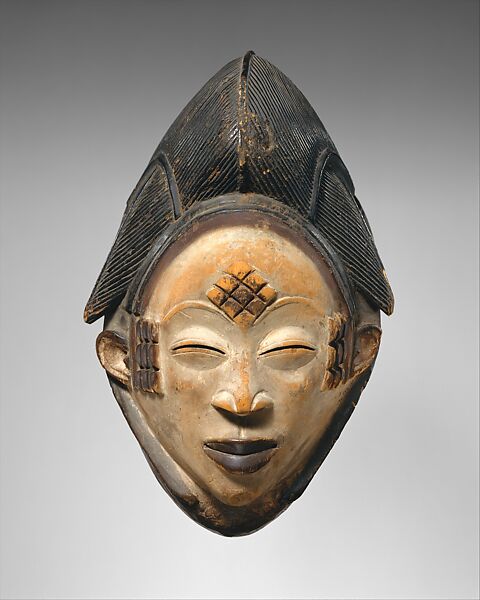 This artwork is meant to be viewed from right to left. Scroll left to view more.