Grand Pianoforte
Manufacturer Érard French
Designer George Henry Blake

On view at The Met Fifth Avenue in Gallery 684
This piano, featuring an extraordinary marquetry satinwood case designed by George Henry Blake, is one of the most elaborately decorated instruments of the nineteenth century. It was commissioned from the London branch of the distinguished French firm of Érard by Thomas Henry Foley, Baron of Kidderminster, for Witley Court, his residence near Herefordshire and Worcestershire.

The decorative program of the piano consists of mythological personages, references to the Foley family, and symols related to music-making and musical instruments. The piano case features extraordinary marquetry that utilizes materials such as holly, mahogany, burl walnut, tulipwood, ivory, mother-of-pearl, and silver wire. When closed, the center of the lid top features a large music-themed marquetry trophy with instruments that include a hurdy-gurdy, tambourine, viol and bow, lute, panpipes, hunting horn, French horn, and sheets of music and a volume of Beethoven's symphonies. The elaborate lid decorations also feature images of animal and human grotesques and floral sprays as well as representations on ivory of Persephone, Ceres, and Bacchus. The lid, case sides, and key flap also feature extraordinary marquetry and scenes of every day life such as a woman and child warming themselves by a fire, a shepherd boy with a dog, and figures making music or dancing. The exposed underside of the lid flap has a large decoration of the Foley family coat-of-arms with two lion supporters.

The entire instrument has heavy gilt wood edging in the Louis XV style that incorporates carved flowers, scrolls, musical instruments, shells, and masks of Bacchus, Apollo, Diana, and Venus at the top of each leg. Each of these likenesses is said to represent a member of the Foley family. The pedal lyre has the face of "Wind" and attached are two three-dimensional carved and gilt birds. The instrument sits on a stand with a stretcher, in the style of eighteenth century French harpsichords. In the center of the stretcher is a reclining painted figure of Apollow with his lyre.

The keyboard compass is CC-g4 (80 keys) with ivory naturals and ebony accidentals. There are two marquetried wood pedals, the left for the una corda and the right for the dampers. The instrument has the double-escapement action invented by Sébastian Érard and refined by his nephew Pierre, the most advanced for its period and the basis for the modern piano action. The instrument is triple strung except for the five lowest notes which each have two overwound bass strings. The strings for the top 26 notes pass beneath a pierced brass bar, Pierre Érards "harmonic bar" patented in 1838. The open-bottom wooden case is reinforced by longitudinal steel bars.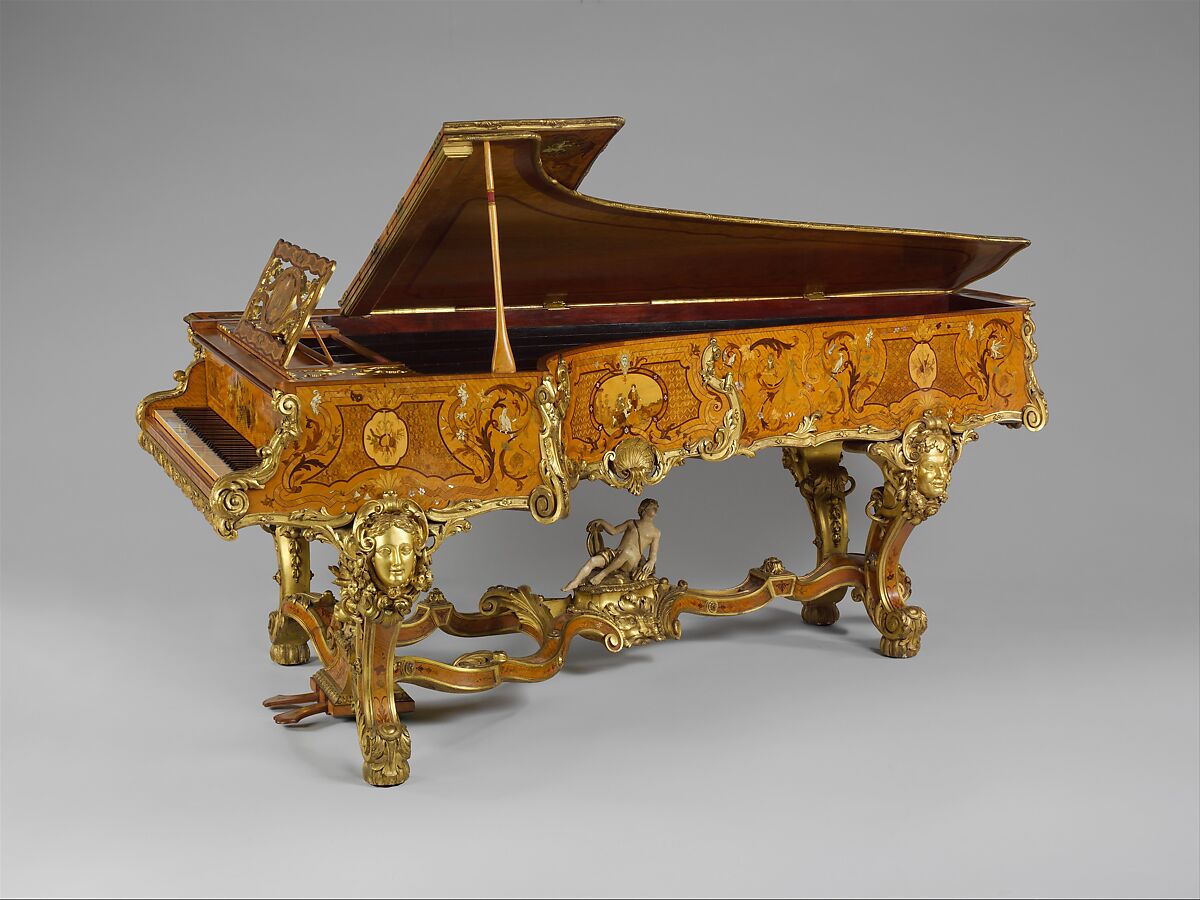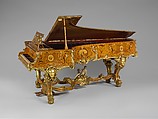 This artwork is meant to be viewed from right to left. Scroll left to view more.